Recipe courtesy of Rex Bird
Serves 10 to 15 hungry people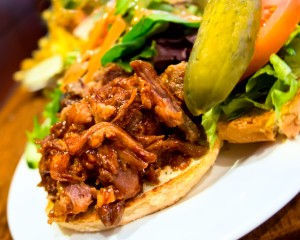 INGREDIENTS
For the pork
10 pounds (4.5 kg) wild pig pork loins
8 bay leaves
1 bunch fresh thyme
2 cloves garlic, smashed & peeled
4 teaspoons (20 ml) olive oil
For the brine
5 tablespoons (60 ml) pickling spice
2 tablespoons (30 ml) whole black peppercorns
1/2 cup (96 g) cane sugar
1 cup (115 g) kosher salt
1 gallon (3.8 liters) water
2 or 3 bay leaves
2 or 3 cloves garlic, peeled and crushed
1 bunch fresh thyme leaves
For the rub
4 tablespoons (60 ml) smoked paprika
2 tablespoons (30 ml) coarsely ground black pepper
2 tablespoons (30 ml) chili powder
2 tablespoons (30 ml) brown sugar (optional)
1 tablespoon (15 ml) dry mustard
1 teaspoon (5 ml) ancho chili powder, or to taste
1 teaspoo (5 ml) cayenne powder, or to taste
Barbecue Sauce: Your favorite store-bought barbecue sauce or recipe (no two Texans will agree on this)
INSTRUCTIONS
Fill and preheat the SousVide Supreme to 160F/71C.
Combine all brine ingredients in a large pot or jumbo heavy-duty zip-closure bag and stir until salt is dissolved.
Cut the pork loin into 2-inch-thick slices, add to the brine solution, and cover (or zip the seal); refrigerate for 6-8 hours.
Remove pork from brine, rinse under clear water, and pat dry.
Baste the pork with olive oil, apply rub, and divide the pork pieces equally among cooking pouches in a single layer.
Divide the bay leaves, thyme, and garlic among the pouches and vacuum seal.
Submerge the pouches and cook for 24 hours.
Before serving, heat the barbecue sauce.
To serve, remove pork from pouches, pull the meat apart with fingers or forks, and mix thoroughly with barbecue sauce.
Serve piled onto a toasted bun or just piled on a plate with your favorite sides.
Share This Recipe with Friends!