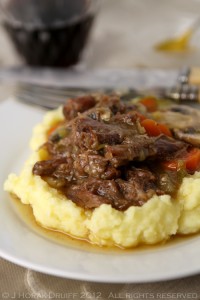 Courtesy of Cook Sister www.cooksister.com
Serves 4
INGREDIENTS
For the oxtail
4 pounds (1.8 kg) oxtail pieces
8 small to medium whole onions, unpeeled
1 full bulb (head) garlic, unpeeled
1/2 cup (100g) Demerara Sugar
1 cup (250ml) white wine
salt and pepper
1/8 teaspoon (0.5 ml) ground cloves
pinch of cayenne pepper
For the sauce
1 tablespoon plus 1 teaspoon (20 g) butter
2 sticks of celery, finely diced
1 medium leek, well washed and thinly sliced
4 medium carrots, peeled and cut into half-moons
2 teaspoons (10 ml) English mustard
15 ounces (450 g) cooking liquid from the oxtail
4 tablespoons (60 ml) onion puree from the oxtail
10 closed cup mushrooms, thinly sliced
Salt and pepper
A pinch cayenne pepper
1 tablespoon (15 ml) cornstarch, for thickening, only if needed
For serving
2 cups (480 ml) prepared mashed potatoes, made with plenty of butter, and a tablespoon (15 ml) of English mustard stirred in
INSTRUCTIONS
First roast the onions and garlic
Preheat the traditional oven to 400F/200C.
Rinse and dry the whole onions and garlic but do not peel them.
Place them on a lined baking tray in the preheated oven and roast for 15 minutes.
Remove the garlic and allow the onions to roast for a further 35 minutes.
Allow the onions and garlic to cool until they are easy to handle, then squeeze the roasted garlic pulp and onion pulp from the skins into a small saucepan; you will find it comes our very easily.
Add the wine, sugar, and seasonings and bring to the boil; reduce heat and simmer for 10 to15 minutes.
Using an immersion blender, puree the onion mixture to a thick pulp and allow it to cool completely. (Alternatively, use a jar blender, but let the mixture cool a bit before blending.)
Cook the oxtails
Fill and preheat the SousVide Supreme to 180F/82C.
Put the oxtail pieces in two small (quart/0.9 liter) cooking pouches.
Add 2 tablespoons (30 ml) of the onion puree to each pouch, fold and clip the open ends, and put into the freezer for 15 minutes, so that the onion mix begins to solidify to prevent its being sucked up into the suction portal when sealing the pouch)
Vacuum seal the pouches and submerge in the water oven to cook for 20 hours.
After 20 hours, remove the oxtail from the vacuum pouches, pass the accumulated pouch liquid through a sieve, and set aside to cool (in a rush, put into the refrigerator.)
Once the liquid cools, scoop the solidified fat off the top, leaving the rest of the sauce, which should have set to a jelly.
Flake the meat from the bones, while still warm, and pull it apart with a pair of forks. Remove any large chunks of fat.
Make the sauce and finish
In a large saucepan, on the stovetop, melt the butter and sauté the leeks, carrots and celery until beginning to soften.
Add the flaked oxtail meat, cooking jelly, mustard, and onion puree. Bring to the boil and then reduce heat to simmer, covered, for 15 to 20 minutes.
Add the mushrooms only in the last 5 minutes.
Check for seasoning and add salt, pepper, and cayenne pepper to taste. (If the sauce is a little too thin, stir in a little cornstarch mixed with cold water.)
Serve on mashed potatoes made with plenty of butter and a tablespoon of English mustard stirred in.
Share This Recipe with Friends!