Tebasaki Chicken Wings Sous Vide

Tebasaki Sauce courtesy of Chika Machida
Serves 8 to 10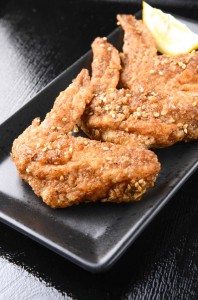 INGREDIENTS
For the chicken wings
5 pounds (2 kg) chicken wings, split into flats and drumettes
1 tablespoon (15 ml) kosher salt
4 cups high smoke point oil, such as peanut or sesame oil for deep frying
1 tablespoon (15 ml) lightly toasted sesame seeds, for garnish
For the Tebasaki Sauce
1/4 cup (60 ml) soy sauce
1/4 cup (50 g) dark brown sugar
1/4 cup (60ml) mirin
1/4 cup (60 ml) sake
1-1/2 teaspoons (7.5 ml) juice of ginger root (grate the ginger, then juice and strain out the "stringy bits")
1-2 cloves garlic, peeled and minced
1-1/2 tablespoons (22.5 ml) balsamic vinegar
INSTRUCTIONS
Fill and preheat the SousVide Supreme to 170F/ 77C.
Season the wings with salt and vacuum seal in cooking pouches in a single layer, using as many pouches as needed.
Submerge the pouches in the water oven to cook for 4 hours (or up to 8 hours).
Remove wings from pouch(es) and pat very dry with paper towels.
In a saucepan over medium heat, mix together all Tebasaki Sauce ingredients, except balsamic vinegar, and bring to a boil. Remove from the heat, stir in the vinegar and set aside.
Heat the peanut oil in a dutch oven or deep fryer to 400F/ 200C and carefully add the wings to the hot oil, working in batches and keeping them moving with tongs, until they are nicely golden brown.
As you remove the wings from the oil, dunk them in the Tebasaki Sauce and put onto a serving platter. Tent with foil to keep warm until all wings are ready.
Sprinkle the wings with the sesame seeds and serve.