Sous Vide Duck Confit Carnitas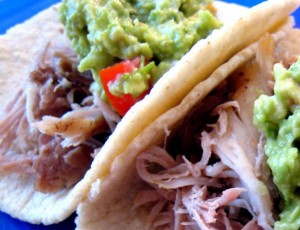 Courtesy of Chef Bri Van Scotter
Serves 4
INGREDIENTS
For the tacos
4 duck legs
1 tablespoon (15 ml) chili powder
1 tablespoon (15 ml) salt
1 tablespoon (15 ml) pepper
4 tablespoons (60 ml) duck fat, plus 1 tablespoon (15 ml) additional for browning
1 recipe Avocado Sauce (recipe follows)
1 recipe Cabbage Slaw (recipe follows)
8 warm corn tortillas
For the avocado sauce
1 ripe avocado, peeled and seeded
1/3 cup (80 ml) mayonnaise
1/3 cup fresh cilantro
2 green onions, trimmed and chopped
2 tablespoons (30 ml) lime juice
1⁄2 teaspoon (2.5 ml) cumin
For the cabbage slaw
1 head cabbage, trimmed and finely sliced
1 carrot, peeled and shredded
1⁄2 red onion, peeled and thinly sliced
1⁄4 cup (60 ml) rice wine vinegar
1 tablespoon (15 ml) honey
salt and pepper, to taste
INSTRUCTIONS
For the tacos
Fill and preheat the Sous Vide Supreme to 167F/75C.
Sprinkle the duck legs evenly with the chili powder, salt and pepper, put into small cooking pouches (two legs per pouch) and pour the duck fat over.
Vacuum seal the pouches and submerge in the water bath for 8-10 hours.
After the duck is cooked, remove the legs from the pouches and let them rest until cool until cool enough to handle.
Remove the duck meat from the bone and shred into pieces.
In skillet on the stovetop, heat the remaining tablespoon of duck fat and sauté the shredded duck, stirring occasionally, until about half of the meat is browned and crisp, about 5 minutes.
Pile shredded duck onto warm corn tortilla, top with the Avocado Sauce and Cabbage Slaw and enjoy!
For the avocado sauce
In the bowl a blender combine all ingredients and blend until smooth.
For the cabbage slaw
Combine all ingredients in a bowl and toss well to combine.