Butter Poached Sous Vide Lobster

Serves 2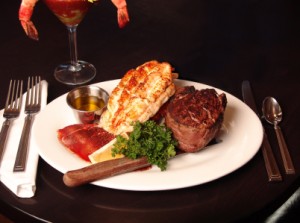 INGREDIENTS
2 (4 to 5 ounce/115 to 145 g) lobster tails, defrosted,
6 tablespoons (86) unsalted butter, cut into pieces
Kosher or sea salt
1 sprig fresh tarragon
Fresh lemon wedges for serving
INSTRUCTIONS
Fill and preheat the SousVide Supreme to 140F/60C.
Remove the meat from the lobster tails in one piece.
Arrange the lobster tails side by side in a small (quart/0.9 liter) cooking pouch.
Add the butter, a scant pinch of salt, and the tarragon to the pouch and vacuum seal.
Submerge the pouch in the water oven to cook for 20 to 30 minutes.
To serve, remove the tails from the pouch to a warm plate.
Pour the pouch liquid into a ramekin and stir in a squeeze of fresh lemon juice for dipping.