Serves 6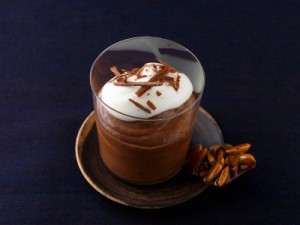 INGREDIENTS
8 large egg yolks

1 cup (192 g) sugar

Pinch salt

1/2 cup (120 ml) dry Marsala

1/3 cup (37 g) unsweetened cocoa powder

1/4 cup (60 ml) whipping cream, or heavy cream

1 pound (0.45 kg) fresh strawberries, washed, hulled, and quartered
INSTRUCTIONS
Fill and preheat the SousVide Supreme to 165F/74C.

Meanwhile, in a bowl, whisk together the egg yolks, sugar, salt and Marsala.

Add cocoa powder and whisk until completely combined, then add cream and whisk well.

Pour the egg mixture into a large (gallon/3.8 liter) zip-closure cooking pouch.

Use the

displacement method (Archimedes' Principle)

to remove the air from the pouch and zip the seal.

Submerge the pouch in the water oven to cook for 20 to 30 minutes, until thick and creamy. Periodically, lift the pouch from the water bath and massage the contents through the pouch to mix and return to the water.

Meanwhile, divide the strawberries among individual dessert bowls or stemmed cocktail glasses.

When ready to serve, pour the warm zabaglione over the strawberries, or if you prefer, pour the zabaglione into individual serving bowls, cover, and chill until set in the refrigerator, then garnish each bowl with a few fresh strawberries at serving.
Share This Recipe with Friends!