It's Mardi Gras, so as they say in Nawlins: laissez les bon temps rouler! What better way to celebrate than with one of the signature dishes of the Louisiana bayou's world famous cuisine: Jambalaya. Filled with chicken and seafood and Cajun flavor, it'll taste like you worked all day. We'll keep your secret that the SousVide Supreme did most of the work for you!
Serves 4 (to multiply, make multiple pouches)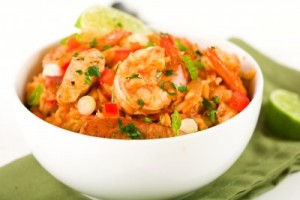 INGREDIENTS
For the chicken
4 ounces (115 g) chicken, diced
12 medium shrimps, peeled, deveined and chopped
1 tablespoon (15 ml) Creole seasoning
1/4 teaspoon (1.25 ml) salt (or to taste)
4 ounces (115 g) Andouille sausage, sliced
For the rice
2 tablespoons (30 ml) olive oil
1/4 green bell pepper, seeded and diced
1/4 yellow onion, peeled and diced
1 stalk celery, trimmed and diced
3 cloves garlic, peeled and minced
1 medium tomato, seeded and diced
3 bay leaves
1 teaspoon (5 ml) Worcestershire sauce
1 teaspoon (5 ml) Tabasco (or other hot sauce to taste)
1 cups (120 g) medium or short grain rice, uncooked
2 cups (480 ml) chicken broth
1/4 teaspoon (1.25 ml) salt
1/4 teaspoon (1.25 ml) black pepper
INSTRUCTIONS
Fill and preheat the SousVide Supreme to 142F/61C.
Season the chicken and shrimp with the Creole seasoning and salt and put it into a large (gallon/3.8 liter) cooking pouch in a single layer and vacuum seal.
Put the Andouille sausage into a small (quart/0.9 liter) cooking pouch and vacuum seal.
Submerge the pouches in the water oven to cook for 45 minutes to 1 hour.
Meanwhile, on the stove top in a skillet over medium high heat, warm the olive oil and sauté the bell pepper, onion, and celery until tender. Add the garlic, tomatoes, bay leaves, Worcestershire and hot sauces and continue to cook for a minute or two more. Remove from the heat and let cool.
When the chicken, shrimp, and sausage are done, remove the pouches and quick chill, submerged in an ice bath (half ice/half water) for 15 to 20 minutes, then refrigerate until ready to use. (This can be done up to a day in advance, if desired.)
Raise the temperature of the water bath to 183F/84C to cook the rice.
When the new cooking temperature has been reached, put the rice, cooked vegetables, and all remaining rice ingredients into a large (gallon/3.8 liter) zip-closure cooking pouch and use the displacement method (Archimedes' Principle) to remove the air and zip the seal.
Submerge the rice pouch in the water oven and cook for 45 minutes to 1 hour
In the last 15 minutes of cooking, re-warm the pouches containing the chicken, shrimp, and sausage in a large bowl of hottest tap water.
When ready to serve, open the rice pouch and pour into a warm serving bowl. Add the chicken, shrimp, and sausage, plus their accumulated pouch juices, to the rice and toss to distribute them throughout.
Serve with a salad and warm, crusty bread and butter.
Share This Recipe with Friends!