Moroccan Sirloin Steak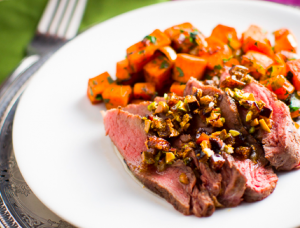 …with Fig Pistachio Butter and Sweet Potato Home Fries
Courtesy of Melissa Jouwan (clothesmakethegirl.com)
Serves 4
For the fries:
2 large sweet potatoes, peeled and cut into 1/2-inch (1.25 cm)cubes
1 medium onion, finely diced (about 1 cup)
1 ½ tablespoons (22.5 ml) coconut oil
(divided use)
1 teaspoon (5 ml) paprika
1/2 teaspoon (2.5 ml) chili powder
1/4 teaspoon (1.25 ml) salt
1/4 teaspoon (1.25 ml) ground black pepper
1 tablespoon (15 ml) minced fresh parsley leaves (about 1/4 cup fresh parsley)
For the steak:
4 TX Bar Organics sirloin steaks
1 large clove garlic, peeled and cut into 4 pieces
2 teaspoons (10 ml) Ras el Hanout (see below)
2 teaspoons (10 ml) clarified butter (ghee)
For the Fig-Pistachio Butter:
1/4 cup (60 ml) clarified butter (ghee)
2 dried figs, finely minced (about 2 tablespoons)
1 tablespoon (15 ml) finely chopped pistachios
1 clove garlic, crushed (about 1 teaspoon)
salt and ground black pepper, to taste
Prepare the potatoes…
1. Fill and preheat the SousVide Supreme to 183F/84C.
2. Put the potatoes into a cooking pouch in a single layer and vacuum seal.
3. Submerge the pouch in the water oven and cook for 90 minutes.
4. When the sweet potatoes cooked, remove the pouch from the water, open the pouch, drain the liquid, and set potatoes aside until ready to finish the home fries.
Cook the steak…
1. Reset the temperature of the SousVide Supreme to your preferred degree of doneness for the steak (120F/49C rare; 134F/56.5C medium rare; 140F/60C medium; 150F/65.5C medium well). Add cold water or ice to speed the process.
2. Rub each steak with the cut side of a piece of garlic, then sprinkle Ras el Hanout onto the surface and pat gently to coat the outside of the steak with the spice blend. 3. Dot the top of each steak with 1/2 teaspoon clarified butter and put each steak into a small (quart/0.9 liter) cooking pouch.
4. Submerge the pouches in the water oven and cook for at least 1 hour (or up to 4 hours or more to tenderize.)
.
Make the Fig-Pistachio Butter…
1. About 5 minutes before the steaks are finished, put the clarified butter into a small saucepan and melt over low heat.
2. Add the minced fig, pistachios, and garlic and stir to combine; keep warm until ready to serve.

Make the home fries…
1. Heat a large skillet over medium-high heat, about 3 minutes.
2. Add coconut oil and allow it to melt.
3. Add the diced onion to the pan and sauté, stirring occasionally with a wooden spoon, cooking until nicely browned.
5. Add the paprika, chili powder, salt, and pepper; stir to combine.
6. Add an additional tablespoon of coconut oil to the skillet, and then the sweet potato cubes, shaking the skillet to make an even, single layer.
7. Cook the potatoes without stirring until the cubes are brown on the bottom, about 5 minutes, then carefully flip the potatoes with a large spatula, repeating this process until the potatoes are browned on most sides, another 5-10 minutes.
8. Remove to a serving dish and keep warm; toss with minced parsley to finish.
Sear the steaks and plate…
1. Remove the steaks from the water oven and the pouch. Pat dry.
2. Re-heat the same skillet until it's very hot and sear the steaks for 30 seconds per side to brown and caramelize the surface.
3. Slice and drizzle with the Fig-Pistachio Butter and serve alongside the Sweet Potato Home Fries.