Whitney Miller's White Chocolate Bread Pudding Sous Vide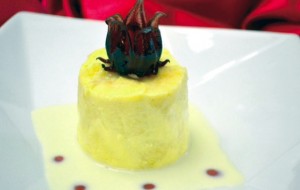 with White Chocolate Sauce and Hibiscus Flower
Courtesy of MasterChef winner Whitney Miller
Serves 2
INGREDIENTS
1 cup (240 ml volume) French bread, cubed to 1/2 inch (1.25 cm)
1 large egg
1 large egg yolk
2 tablespoons (25 g) granulated sugar
2 ounces (60 ml) half-and-half
1 1/2 ounces (45 ml) heavy cream, divided
1 1/2 ounces (42 g) good quality white chocolate chips
1⁄4 teaspoon (1.25 ml) pure vanilla extract
For the sauce
1 ounce (32 g) good quality white chocolate chips
2 ounces (60 ml) heavy whipping cream
2 Hibiscus flowers in syrup
INSTRUCTIONS
Fill and preheat the water oven to 170F/77C.
Preheat the traditional oven to 350F/177C.
Put the bread cubes on a baking sheet and toast in the traditional oven for 5 minutes.
In a large bowl, whisk together the whole egg, egg yolk, and sugar.
In a small saucepan, over medium heat, combine the half-and-half and 1 ounce (30 ml) of the heavy cream and heat until tendrils of steam begin to escape the surface.
Whisk the egg mixture constantly as you slowly dribble in some of the hot cream to temper the eggs. Continue to whisk as you add the remainder of the cream.
Melt the white chocolate with the remaining 1/2 ounce (15 ml) of the heavy cream in a saucepan over medium low heat.
Stir the melted white chocolate and vanilla into the egg mixture.
Fold in the bread cubes and let the mixture sit for 2 minutes or until the bread has absorbed the liquid.
Grease 2 (8 ounce/240 ml) Mason jars with cooking spray.
Divide the bread pudding mixture evenly among the mason jars and screw on the lids.
Carefully lower the Mason jars onto the perforated bottom rack of the water oven and cook for 2 hours.
For the sauce
Melt the white chocolate with the heavy whipping cream in a medium saucepan over low heat, stirring occasionally.
For the assembly
When the pudding has cooked, carefully remove the Mason jars from the water bath and transfer to the upturned SousVide Supreme lid with tongs.
Allow the jars to cool for 3 or 4 minutes, then using a tea towel, remove the jars' lids.
Gently run a butter knife around the edge of the bread pudding and transfer to a shallow dessert bowl.
Spoon the white chocolate sauce around the bread pudding. Place an hibiscus flower on top of the bread pudding and then drizzle a teaspoon (5 ml) of the hibiscus syrup over the sauce.
Serve immediately.