Achiote Rubbed SousVide Salmon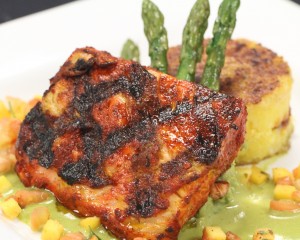 with Chorizo Arepa, Poblano Chile Sauce and Mango Salsa
Courtesy of Chef Lenard Rubin
Serves 4
INGREDIENTS
For the salmon
4 small salmon filets, about 1/2-inch (1.5 cm) thick
1 cup Achiote Rub (recipe follows)
4 tablespoons (60 ml) olive oil
4 each Chorizo Arepa, warm (recipe follows)
1 teaspoon (5 g) unsalted butter
20 asparagus spears
1 cup (240 ml) Poblano Sauce, warm (recipe follows)
1 cup Mango Salsa (recipe follows)
Salt and ground black pepper, to taste
For the achiote rub
3/4 cup (90 g) ground achiote (annatto)
1 tablespoon (15 ml) sherry vinegar
2 cloves garlic, peeled
1 tablespoon (15 ml) soy sauce
1 tablespoon (15 ml) Worcestershire sauce
1/4 cup (60 ml) olive oil
1 lemon (for juice)
1 lime (for juice)
1 tablespoon (15 ml) frozen orange juice concentrate
Salt and ground black pepper to taste
For the chorizo arepas
6 ounces (170 g) mild beef chorizo
1 tablespoon (15 ml) olive oil
8 ounces (228 g) frozen corn kernels, thawed
6-1/2 tablespoons (70 g) pre-cooked corn meal (masarepa, harina precocida)
6-1/2 tablespoons (78 g) granulated sugar
1/2 cup (2 ¼ ounces/64 g) white cheddar cheese, shredded
1/2 tablespoon (7.5 ml) milk
1/4 teaspoon (1.25 ml) salt
For the poblano chile sauce
1 tablespoon (15 ml) olive oil
1 small shallot, peeled and chopped
1 clove garlic, peeled and chopped
2 poblano chiles, roasted, peeled, de-seeded, chopped
1/2 cup (120 ml) sherry wine
1 cup (240 ml) heavy cream
1 tablespoon (14 g) unsalted butter
1/4 cup (10 g) cilantro leaves
Salt and ground black pepper, to taste
For the mango salsa
1/2 cup (125 g) fresh mango, peeled and diced small
1/4 cup (65 g) tomato, diced small
1 tablespoon (12 g) red onion, peeled and diced small
1 tablespoon (3 g) green onion, chopped small
1/2 teaspoon (1.5 g) jalapeno, minced fine
1 tablespoon (2.5 g) cilantro, chopped
1 lemon (for juice)
1lime (for juice)
1 tablespoon (15 ml) honey
1 teaspoon (5 ml) chili powder
Salt and ground black pepper to taste
INSTRUCTIONS
For the salmon
Prepare in advance the Achiote Rub, Mango Salsa, and Poblano Sauce. Prepare the Chorizo Arepas batter and refrigerate the uncooked arepas (recipes follow.)
Fill and preheat the SousVide Supreme to 140F/60C.
Rub the top and sides of the salmon filets with the Achiote Rub
Put the salmon filets into two cooking pouches in a single layer, slightly separated from each other and vacuum seal.
Submerge the sealed pouches in the water bath (using the pouch rack to keep them separated) and cook for 45 minutes.
After 45 minutes remove the pouches from the water bath; remove the salmon and pat the filets dry. Just before you are ready to sear the salmon (step 9) cook the arepas:

Remove the arepas from the refrigerator
Preheat the traditional oven to 350F/176C
On the stovetop heat oil on a griddle or non-stick pan and cook the apreas until golden brown, about 3 minutes on each side.
Remove them to a baking sheet and put them into the oven to cook for another 7 minutes

Meanwhile, toss the butter into a separate hot skillet and cook the asparagus until just crisp tender. Season with salt and pepper.
Heat an oiled grill, grill pan, or char broiler to high heat.
Lightly rub the salmon filets with half the portion of olive oil and sear on a hot grill or char broiler for about 30 seconds to 1 minute to create grill marks and a savory flavor.
Turn at a 45° angle to create a cross-mark, and sear for another 30 seconds to 1 minute.
To serve, pool Poblano Sauce on the plate, add an arepa, lean asparagus across the arepa, and position the salmon on asparagus and arepa; top with the Mango Salsa
For the achiote rub
Put all ingredients into a blender and puree until smooth
For the chorizo arepas
Heat olive oil in a sauté pan and add the chorizo; stir frequently and cook thoroughly.
Remove from heat, drain excess fat, and chill.
Puree corn in food processor
In a mixing bowl, mix pureed corn together with all other ingredients, except chorizo.
Spoon mixture into a 2-1/2 inch (6 cm) biscuit cutter, filling half way up
Put a small amount of chorizo in the center
Fill the cutter the rest of the way to the top with the arepa mixture and transfer arepa to a small tray. Repeat with remaining batter.
Refrigerate for at least 30 minutes prior to cooking (in step 6 above.)
For the poblano chile sauce
On the stovetop, heat the olive oil in saucepan.
Add the shallots and garlic and cook until caramelized.
Add the poblano chilies and continue to cook for 2 minutes.
Reduce the heat, add the sherry (be careful as the sherry may ignite), and reduce by half.
Add cream and reduce by one-third.
Put the poblano cream mixture, butter, cilantro, salt and pepper into blender and puree until smooth
Strain through fine strainer.
Check seasoning, adjusting with salt and pepper as needed.
If not used immediately, cool, cover, and refrigerate. Rewarm on the stovetop before serving.
For the mango salsa
In a bowl, mix all ingredients together well.
Taste and adjust seasonings as needed.
Cover and refrigerate until serving.