Courtesy of Chef Jason Wilson of Crush, Seattle, WA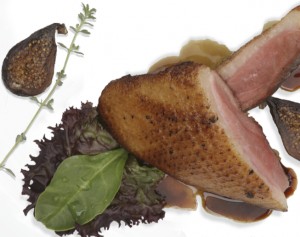 Serves 4
INGREDIENTS
For the soubise
1 yellow onion, peeled and rough chopped
1 shallot, peeled and rough chopped
1 strip of bacon, diced small
1/2 green apple, peeled and in acidulated water (water with a splash of lemon juice)
1/2 cup (120 ml) heavy cream
1 bay leaf
1 stalk celery, rough chopped
1 each clove
2 sprigs thyme
2 tablespoons (28 g) kosher salt
For the duck
4 Moullard duck breasts, trimmed of silver skin and excess fat

2 tablespoons (30 ml) sassafras powder
1-1/2 tablespoons kosher salt
4 sprigs fresh thyme, stripped for leaves
1/2 teaspoon (2.5 ml) ground black cardamom
Fresh hucklenerries (or blueberries) for garnish
INSTRUCTIONS
Fill and preheat the SousVide Supreme to 180F/ 82C.
Put all soubise ingredients into a cooking pouch and vacuum seal.
Submerge in the water oven to cook for 2 hours.
Remove pouch, let cool slightly, and pour contents into a blender; process to a smooth puree.
Pour the soubise into a fresh cooking pouch, press out most of the air with your, and seal only. (Do not vacuum with a suction vacuum sealer)
Reset the temperature of the water oven to 140F/ 60C. (Add some ice cubes or cold water to drop the temperature more quickly) Put the soubise pouch in the water oven to keep warm.
Meanwhile, in a small bowl, combine all seasonings and spices for the duck and mix well.
Season the duck with the spices; put two breasts per small (quart/ 0.9 liter) pouch and vacuum seal.
Submerge pouches in the water bath and cook for 20 to 30 minutes. Remove the breasts from the pouches and allow 5 minutes for the meat to rest.
In a skillet over medium heat, sear the breasts, fat side down, slowly in a sauté pan until fat is rendered and skin is crisp.
Slice the breasts and arrange on warm plates, accompanied by the soubise and fresh huckleberries, or the sides of your choice.
Share This Recipe with Friends!