Courtesy of the Mondrian Hotel Bar
Makes 1 cocktail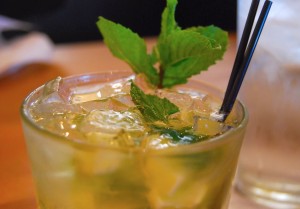 INGREDIENTS
3 sprigs mint (reserve 1 for garnish)
1/2 ounce (15 ml) agave syrup
1/2 ounce (15 ml) lime juice Lychee and Melon Infused Bulldog Gin
1 ounce (30 ml) Pineapple, Apple & Mint Juice
4 or 5 ice cubes for shaking
Crushed ice
INSTRUCTIONS
To a cocktail shaker, add 2 sprigs of the mint and the agave syrup; lightly muddle mint.
Add all other ingredients, except the crushed ice, and shake well to chill.
Pack a Collins glass with crushed ice, strain the cocktail into it, and garnish with the remaining mint sprig.
*Blueprint juices are available online
Share This Recipe with Friends!