BBQ Beef Burger

with Cipollini Onions and Blue Cheese
Serves 2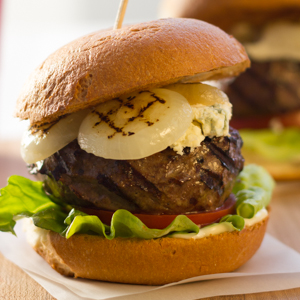 INGREDIENTS
For the onions
6 cipollini onions
1 tablespoon (14 g) butter
¼ teaspoon (1.25 ml) pepper
¼ teaspoon (1.25 ml) smoked salt
For the burgers
1/2 pound (8oz/ 227 g) ground sirloin
¼ teaspoon (1.25 ml) pepper
¼ teaspoon (1.25 ml) smoked salt
For plating
½ tablespoon (7.5 ml) high-smoke point oil
2 burger buns
1 tablespoon (15 ml) mayonnaise
2 lettuce leaves
½ cup (2oz/50 g) blue cheese
½ beefsteak tomato, cut into two thick slices
INSTRUCTIONS
Fill and preheat the SousVide Supreme to 185F/85C.
Top and tail the onions and remove the skin with a paring knife.
Put the prepared onions into a small (quart /0.95 liter) food-grade cooking pouch in a single layer. Add the butter, salt and pepper to the cooking pouch, and vacuum seal.
Submerge the pouch in the water bath to cook for 35 minutes (or up to an hour won't hurt.)
After at least 35 minutes, remove the pouch from the water bath and quick chill, submerged in ice water (half ice, half water) for 15 minutes, and refrigerate until you are ready to finish on the grill later. (You can do this up to 2 days in advance.)
Next, put the ground meat, salt and pepper into a bowl and using clean hands, mix in the seasonings and form the meat into two equal-sized patties. Put the patties on a plate and cover with plastic wrap (cling film), and put them into the freezer for 1 to 2 hours. (Freezing them before vacuum sealing will help the burgers keep their shape better.
Set the water temperature in the SousVide Supreme for the burger – 134 °F (56.5 °C) for medium rare; 140°F (60 °C) for medium; 150 °F(65.5 °C) for well-done.
Once the patties are firm and frozen, place them in a large (1 gallon / 3.8 liter) food-grade cooking pouch in a single layer and seal using a vacuum sealer. As soon as the water has reached the right temperature, submerge the pouch in the SousVide Supreme and cook for 60- 90 minutes.
While you are waiting for the burgers to cook, you can prep the other ingredients. Slice the blue cheese, cut the tomatoes, wash and dry the lettuce, and put them in the fridge until you are ready to serve. Preheat the grill to high heat.
Once the burgers are cooked, remove from the cooking pouch and pat them dry with kitchen paper (paper towels).
Remove the onions from their pouch and pat dry.
Brush the burgers and the onions with a little oil and then sear them on a hot barbecue grill. I like to toast my burger buns on the grill at the same time.
Once the burgers and onions are nicely seared on both sides, take them off the heat.
To plate: Center the bottom burger bun on a plate, cover one side with mayonnaise, tomato, lettuce, and then place the burger on top. Slice the cipollini onions in half and arrange over the burger with the blue cheese. Close the burger bun and serve.