Chermoula

Courtesy of Staff Blogger, Madeline
Yields: 2-3 cups (16-24 oz/473-710 ml)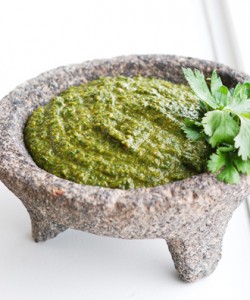 We encourage you to take the time to toast the cumin seeds, as this extra step brings out the natural oils and adds a depth of flavor. A tip, toast more than you need and then store in a glass jar for future use, this comes in handy when crunched for time.
INGREDIENTS
10 garlic cloves, peeled
1 teaspoon (5 ml) crushed red pepper
1 large bunch cilantro, stems and all
2 large bunches flat-leaf parsley, stems and all
3 tablespoons (45 ml) cumin seeds, toasted and ground
1 heaping teaspoon (5 ml) hot smoked paprika
1/4 cup + 2 tablespoons (70 ml) lemon juice
Zest of 2 lemons
2 teaspoons (10 ml) sea salt
1 1/4 cups (300 ml) extra virgin olive oil
INSTRUCTIONS
Using a food processor, chop the garlic.
Add all remaining ingredients to the work bowl, except for the olive oil, and blend until chunky and coarsely chopped.
With the motor running, gradually add the olive oil. The final consistency should be a loose paste.
Store in an airtight container in the refrigerator for 1-2 weeks.