Grilled Barbecue Sous Vide Chicken Pizza

Courtesy of Masterchef's Sharone Hakman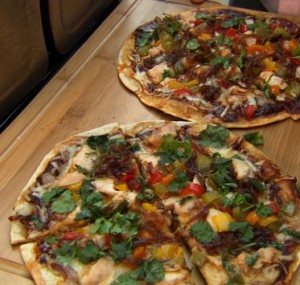 Serves 4
INGREDIENTS
2 chicken breast halves (boneless, skinless) diced into small bite-size pieces
Salt and pepper to taste
2 tablespoons (30 ml) olive oil
1 small red onion, peeled thinly sliced
1 red pepper, cored and diced
2 rounds (8 inch/20cm) fresh pizza dough or flat bread
1-1/2 cups (12 ounces/360 ml) HAK's Barbecue Sauce or your favorite sauce
1/3 cup (1.3 ounces/38g) mozzarella cheese, grated
1/3 cup (1.3 ounces/38g) Monterey jack cheese, grated
1/3 cup (1.3 ounces/38g) white cheddar cheese, grated
1 bunch cilantro, roughly chopped for finishing
INSTRUCTIONS
Fill and preheat the SousVide Supreme water oven to 146F/63.5C
Season the diced chicken and put it into a small (quart/.9 liter) cooking pouch and vacuum seal.
Submerge the pouch in the water oven and cook for 30 minutes to 4 hours.
Remove the pouch and if not using right away, quick chill the pouch in an ice water bath (half ice/half water) for 15 to 20 minutes, then refrigerate.
Meanwhile, oil the grill grate and preheat the grill to medium heat.
On the stovetop, in a skillet, heat the olive oil over medium heat and sauté the onions until they begin to color. Add the peppers and continue to cook until they are soft and begin to slightly caramelize as well.
To assemble the pizza:

Spread the barbecue sauce over the surface of the pizza dough or flatbread, almost to the edge
Top with the sous vide cooked chicken and caramelized onions and peppers.
Distribute the three cheeses evenly over the pizza.

A few minutes before serving, cook the prepared pizza on the hot grill, moving it frequently, for about 5 minutes, until it is hot and the bottom of the crust is crisped and brown.
Top with fresh chopped cilantro and serve.