Halibut with Citrus Beurre Blanc Sous Vide

Serves: 4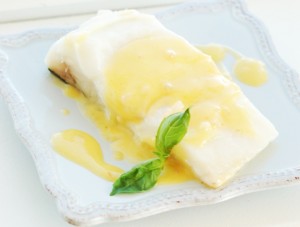 INGREDIENTS
4 (6 ounce/180 gram) halibut fillets
2 tablespoons (1 fl oz/ 30 ml) citrus infused olive oil or 2 tablespoons cold butter (1 oz/ 28 g), cubed
8 thin slices of assorted citrues (grapefruit, lime, lemon, orange)
Sea salt
INSTRUCTIONS
Fill and preheat the SousVide Supreme to 132F/ 55.5C.
Season both sides of the halibut fillets with sea salt.
Put the fillets into a small (1 quart/0.9 liter) cooking pouch, place the citrus slices on each side of the fillet. Make sure to leave some room in between each fillet, 2-3 per cooking pouch.
Drizzle in the citrus olive oil or toss in the butter and vacuum seal.
Submerge the pouches in the water bath and cook for 20 minutes.
Remove from the SousVide Supreme and serve immediately with your favorite sauce.
Here are two of our favorites:
Citrus Beurre Blanc
Yields: 1 cup (8 fl oz/237 ml)
INGREDIENTS
2 tablespoons (1 fl oz/30 ml) dry white wine
1 tablespoon (0.5 fl oz/15 ml) fresh grapefruit juice
1 tablespoon (0.5 fl oz/15 ml) fresh lime juice
1 tablespoon (0.5 fl oz/15 ml) fresh lemon juice
1 tablespoon (0.5 fl oz/15 ml) fresh orange juice
1 small shallot, finely minced
½ teaspoon sea salt
8 ounces (226 g) cold butter, cut into 16 cubes
INSTRUCTIONS
In a medium saucepan bring wine, citrus juices and shallots to a boil. Reduce to about 1 ½ tablespoons (0.8 fl oz/23 ml) of liquid.
Reduce the heat to the lowest setting. Pull the saucepan from the heat and whisk in 2 cubes of butter; as it melts whisk in one more piece.
Set the pan over the lowest heat setting and continuously whisk one piece of butter into the mixture at a time, making sure that each piece is melted prior to adding the next.
Pull the saucepan off of the heat when the last piece is melted.
Spoon immediately onto serving plates and top with fish. Alternatively drizzle over the top of fish.
Pounded Olive & Orange Sauce
Serves: 4
INGREDIENTS
1 small red onion, peeled and frenched (halved and sliced thinly lengthwise)
¼ cup (2 fl oz/60 ml) olive oil
8 oz (227 g) Castelvetrano Olives
8 oz (227 g) mixture of your favorite olives (both with and without pits)
3 oranges, divided, 1 for juicing (ie. Valencia) and 2 for segmenting (ie. Cara Cara/Navel)
⅓ cup (2.7 fl oz/78.9 ml) extra-virgin olive oil
small handful of fresh basil, coarsely chopped
small handful of Italian flat-leaf parsley, coarsely chopped
freshly ground black pepper & sea salt to taste

INSTRUCTIONS
Cut the pitted olives in half or in quarters if particularly big.
With the blunt side of your knife press the olives with pits until they split, or using a heavy bottomed pan pound the olives until split.
In a saute pan warm ¼ cup (2 fl oz/60 ml) olive oil over medium-heat. Add the onions and cook until soft and translucent, approximately 8 minutes.
Add freshly squeezed orange juice and olives and cook for 1-2 minutes.
Add the orange segments and shut off the heat.
Toss in fresh basil and parsley. Drizzle in ⅓ cup fruity olive oil. Season with salt and pepper to taste.