Barbecued Potato Salad

Adapted for sous vide from Alison Ladman's Three-Pepper Barbecue Potato Salad
Serves 8
INGREDIENTS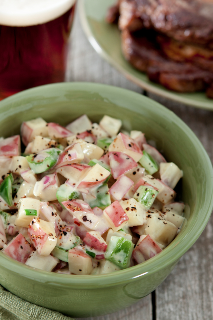 For the potatoes
2 pounds (.9 kg) red ppotatoes, washed and cubed
1 tablespoon cider vinegar
1 jar (12-ounces/342 g) roasted red peppers, drained, seeded, patted dry, and chopped
1 handful fresh flat leaf parsley, chopped
4 scallions, trimmed and chopped
8 pieces bacon, cooked very crisp and crumbled (optional)
1 cup (120 g) shredded cheddar cheese
For the dressing
1/2 cup (120 ml) sour cream
1/2 cup barbecue sauce
1 teaspoon chili powder
1/2 teaspoon garlic powder
1/2 teaspoon black pepper
1/4 teaspoon cayenne pepper
Salt to taste
INSTRUCTIONS
Fill and preheat the SousVide Supreme to 182F/ 83C.
Put the potatoes into a cooking pouch in a single layer and vacuum seal
Submerge in the water oven to cook for 30 to 45 minutes until nicely tender.
Meanwhile, prepare the dressing: In a large bowl, thoroughly mix all the dressing ingredients and set aside.
When the potatoes have cooked, drain off any accumulated liquid and pour them into the dressing.
Add the red pepper, cheese, scallions, parsley, and bacon and toss to coat everything.