Candied Bacon

Courtesy of Vivian Peterson of V Top Secret Chef
Makes about 12 to 16 pieces
Please note that this is NOT a sous vide recipe but is used to accompany SousVide Custard Gelato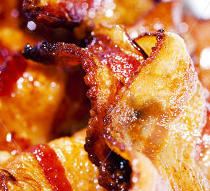 INGREDIENTS
1 pound (0.9 kg) sliced bacon
3/4 cup (1150 g) packed brown sugar
1 teaspoon (5 ml/2 g) cinnamon
Dash cayenne pepper (optional)
INSTRUCTIONS
Preheat the traditional oven to 350F/176 C.
Prepare a baking sheet by lining it with aluminum foil, and then place an oven-safe wire rack on top of the pan. Spray the rack liberally with nonstick cooking spray.
In a bowl, combine the brown sugar, the cinnamon, and the cayenne pepper (if using), tossing together until the spices are well distributed.
Take a strip of bacon and press it into the sugar mixture, then turn it over and coat the other side with sugar. Place it on the wire rack, then repeat until all of the slices of bacon are covered with sugar on both sides. If you have any remaining sugar, sprinkle it over the top of the bacon.
Bake the bacon until firm, crispy, and dark along the edges, about 20 to 30 minutes.
Immediately, use a spatula to lift the bacon off the rack—the sugar and fat can cause the bacon to stick, and if it's not removed while still warm, it's difficult to get off the rack.