Sous Vide Copper River Salmon

Courtesy of Vivian Peterson of V Top Secret Chef
Learn more about this Seattle Sous Vide Cooking class here.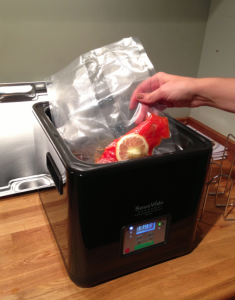 Serves 4
INGREDIENTS
4 Salmon fillets, skin and pin bones removed
Seasonings of your choice*
1 tablespoon (15 ml) high smoke point oil for searing
INSTRUCTIONS 
Fill and preheat the SousVide Supreme to 125F/51.5C.
Season the salmon with salt and pepper and the seasonings of your choice; put into a cooking pouch and vacuum seal.
Submerge the pouch in the water oven to cook for 15 to 30 minutes, depending on
thickness of the fish, for a medium rare.
When the cooking time has elapsed, remove the pouch, open it and pat the salmon dry.
On the stovetop, heat the oil in a skillet over high heat and sear the salmon for about a minute, just long enough to give it a golden glow.
Seasonings to consider: various salts (pink Himalayan, volcanic Black Sea salt, truffle salt), peppercorns (black, green, or pink), fresh herbs (basil, thyme, dill, chives, tarragon), citrus (lemon, lime, orange), or spices.