Gratin Dauphinois (Potatoes au Gratin)

Courtesy of Vivian Peterson
Serves 6 to 8
Ingredients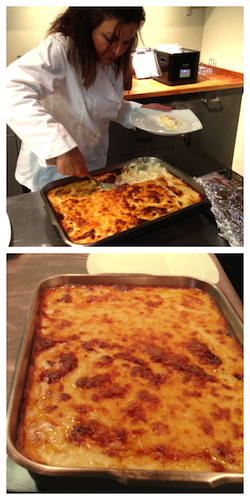 2 pounds (.9 kg) baking potatoes peeled and cut crosswise into ¼-inch (1 cm) slices
1 stick (8 tablespoons/112 g) butter, divided use
salt to taste
1 ½ cups (360 ml) heavy cream
1 ½ cups (360 ml) crème fraiche
1 shallot, peeled and chopped
1 teaspoon (5 ml) salt
¼ teaspoon (1.25 ml) fresh cracked pepper
Pinch fresh nutmeg
2 tablespoons (28 g) butter, softened
2/3 cup (80 g) grated Gruyere cheese
Directions
Fill and preheat the SousVide Supreme to 180F/82C.
Season the potatoes lightly with salt and pepper and divide them between two large (gallon/3.8 l) cooking pouches, keeping them in an even layer.
Add ½ stick (56 g) butter plus seasoning, in each pouch and vacuum seal.
Submerge the pouches in the water oven to cook for 2 ½ hours.
Before serving, preheat the traditional oven to 400F/200C.
In a medium bowl mix all remaining ingredients together and set aside.
When the cooking time has elapsed, remove potatoes from the water bath, drain pouch of accumulated liquid, and transfer the potatoes to a baking dish in an even layer.
Pour the cream mixture over the potatoes and bake for 10 minutes or until top is crispy.
Learn more about this Seattle Sous Vide Cooking class here.