Courtesy of Heather (shrinkingkitchen.com)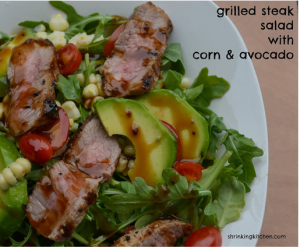 Serves 4
INGREDIENTS
For the sirloin steak
12 ounces (342 g) top sirloin steak
2 cloves garlic, peeled, crushed and minced
1 teaspoon (5 ml) sea salt
2 teaspoons (10 ml) olive oil
fresh ground pepper
For the salad
4 cups (150 g) arugula or other dark leafy green
1/2 cup (115 g) corn kernels (fresh or thawed from frozen)
1 cup (185 g) cherry or grape tomatoes
1 large avocado, peeled, seeded, and sliced
Balsamic Vinaigrette (recipe follows)
For the Balsamic Vinaigrette
3 tablespoons (45 ml) balsamic vinegar
1 tablespoon (15 ml) minced fresh parsley
1 teaspoon (5 ml) Dijon mustard
1/8 teaspoon (0.6 ml) salt
1/4 teaspoon (1.25 ml) freshly ground black pepper
1 garlic clove, peeled, crushed and finely minced
2 tablespoons (30 ml) olive oil
INSTRUCTIONS
Fill and preheat the SousVide Supreme to the temperature for your preferred doneness (120F/49C rare; 134F/56.5C medium rare; 140F/60C medium; 150F/65.5C medium well).
In a small bowl, combine the salt, pepper, olive oil and garlic.
Pat the steaks dry and then give them a rubdown with the garlic-olive oil mixture.
Put the steaks into a cooking pouch and vacuum seal.
Submerge the pouch in the water bath to cook for at least an hour. (No worries if it goes longer.)
When ready to serve, preheat an oiled grill or grill pan to high heat.
Remove the steaks from the pouch bath sear them on the grill for about 30 seconds or so on each side to get a nice, caramelized exterior.
Slice thinly against the grain.
Divide the arugula between four plates or large salad bowls.
Distribute the corn, tomatoes, avocado and steak equally over the arugula.
Drizzle with balsamic vinaigrette and serve!
For the balsamic vinaigrette
In a bowl, whisk all ingredients together- except the olive oil.
Let sit for 5 to 10 minutes to extract and marry the flavors.
In a slow steady stream, whisk in the olive oil.
Share This Recipe with Friends!