Courtesy of Staff Blogger, Sophie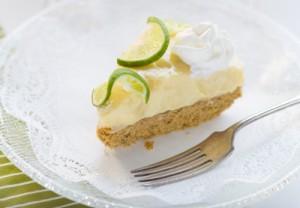 Serves 8
INGREDIENTS
For the Key Lime filling
½ cup (118ml ) key lime juice, from fresh key limes
14 oz (396g) can sweetened, condensed milk
4 egg yolks
For the crust
1 teaspoon (5g) butter, to grease the tin
6 tablespoons ( 85g ) butter, melted
1 ½ cups (150g) graham cracker crumbs
2 tablespoons (30g) granulated white sugar
For the topping
½ cup (118ml) heavy whipping cream
2 extra key limes for decorating
INSTRUCTIONS
Fill and preheat the SousVide Supreme at 180F/82C.
Whisk all the filling ingredients together into a medium-sized bowl, until well combined.
Pour the filling into the large (gallon/3.8 liter) zip-closure cooking pouch, and use the displacement method (Archimedes' principle) to remove the air and zip the seal closed.
Submerge the pouch in the water bath to cook for 30 minutes.
Meanwhile make the graham cracker crust.

Grease an 8 inch (20 cm) round spring form pan/tin with a little butter.
In a large bowl, mix together the graham cracker crumbs, sugar and melted butter with spoon.
Press the crust mixture evenly into the base of the prepared pan/tin, using the back of a spoon.
Put the crust into the refrigerator to harden.

After thirty minutes cooking, remove the filling from the water bath and massage the contents through the pouch to 'stir'.
Open the pouch and pour the key lime filling onto the hardened graham cracker crust.
Allow to cool at room temperature for about thirty minutes then refrigerator for at least 2 hours.
To decorate the key lime pie:
Beat the heavy whipping cream to soft peaks.
Put the whipped cream into a piping bag with a medium tip/nozzle.
Pipe small circles of cream around the edge of the pie and one large circle in the center.
Arrange thin slices of key lime on top of the pie.
Share This Recipe with Friends!