Courtesy of Larry Gaian of Embers & Flame 
Judges Pick Winner 2013 Summer BBQ Challenge
This recipe combines sous vide cooking with grill finishing!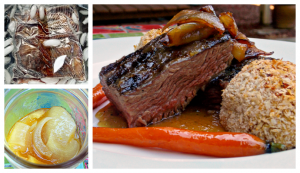 INGREDIENTS
For the short ribs
1 rack of beef plate short ribs (4 bones)
¼ cup (60 ml) barbecue rub (I used Plowboy's Bovine Bold)
Salt and pepper to taste
For the vidalia onions
2 Vidalia onions, peeled and sliced
2 tablespoons (30 ml) Terrapin Ridge Farms Jalapeno and Passion Fruit Jelly
4 tablespoons (57 g) butter
For the vidalia onion butter sauce
⅓ cup sous vide Vidalia onions (recipe follows)
1 tablespoon (15 ml) Terrapin Ridge Farms Jalapeno and Passion Fruit Jelly
1 tablespoon (15 ml) barbecue rub
Pouch liquid from sous vide Vidalia onions
Salt and Pepper to taste
For the caramelized onions
⅔ cups sous vide onions
Olive oil
INSTRUCTIONS
For short ribs
Fill and pre-heat the Sous Vide Supreme to 139F/59.5C.
Season the short ribs with barbecue rub, salt and pepper, put them into a cooking pouch, and vacuum seal.
Submerge the pouch in the water oven to cook for 72 hours.
When the 72 hours has passed, quick chill the pouch of ribs, submerged in ice water for 20 minutes to stop the cooking process and refrigerate until ready to grill.
While chilling or before grilling, make the Vidalia Onion Butter Sauce and caramelize the onions:

 In a sauce pan on the stovetop, heat all the liquid from the sous vide onions and ⅓ cup of the sous vide onions until boiling.
Reduce heat; add the barbecue rub and jelly.
With an immersion blender, puree the onion mixture until smooth.
Continue to simmer the sauce until thick, about 20 minutes and then remove from heat. While the sauce thickens, caramelize the onions.
Pre-heat a cast iron skillet on the stovetop.
Add the sliced onions and cook with a little olive oil until they are nice and golden brown.
To grill finish the short ribs
 Remove the ribs from the refrigerator and allow them to come to room temperature.
Preheat a clean, oiled grill for high indirect heat.
Sear the short ribs on the hot side of the grill for 5 minutes on each side. Move ribs to cooler side of grill, glaze with Vidalia Onion Butter Sauce, and cook until ribs are hot throughout.
For the vidalia onions
Fill and preheat the SousVide Supreme to 165F/74C.
Put the sliced onions into a quart mason jar, add butter and jelly. Seal jar with lid, only finger tight.
Lower the jar into the water oven, filled with water only as deep as the top of the onions in the jar. The lid and rim should be above the surface of the water.
Cook for 12 hours.
Share This Recipe with Friends!