Vivian's Sous Vide Poached Pear in Red Wine

Courtesy of Vivian Peterson of V Top Secret Chef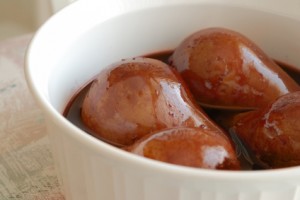 INGREDIENTS
2 bottles (1500 ml) red wine
1 ½ cup (275 g) sugar
2 sticks (10 g) cinnamon
1 teaspoon (5 ml/2 g) ground nutmeg
2 teaspoons (10 ml/4 g) whole cloves
1 ½ teaspoons (7.5 ml/3 g) allspice
3 pods (3 g) star anise
INSTRUCTIONS
Fill and preheat the SousVide Supreme to 176F/80C.
Combine all ingredients except pears in a saucepan on medium high. Simmer for 15 minutes. Strain the reduction.
Peel the pears.
Put the pears into a zip-closure cooking pouch with red wine reduction. Use the displacement method (Archimedes' Principle) to remove the air and zip the seal.
Submerge the pouch in the water oven to cook for 30 minutes.
Quick chill the pears in the pouch, submerged in ice water for 15 minutes after cooking. Refrigerate for an hour or up to overnight.
When ready to serve, clip open the pouch and drain the cooking juices from the pears into a saucepan.
Over medium heat, reduce the juices to the viscosity of a light syrup.
Slice the pears and serve with the syrup.
Learn more about this Seattle Sous Vide Cooking class here.