Courtesy of Sous Vide Supreme Culinary Specialist, Sophie
Makes 5 (or 6)
On the fifth day of Christmas SousVide Supreme can offer you some buttery golden pastry rings with a creamy chicken, Parmesan and mushroom sauce. This is a simple snack to make, and a perfect winter appetizer.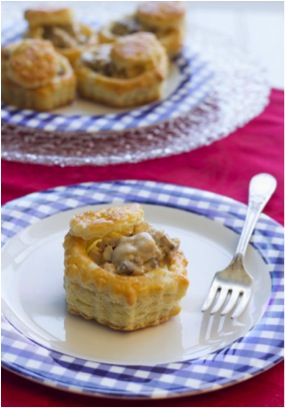 INGREDIENTS
1 small chicken breast or half a large one
Salt and pepper, to taste
5 or 6 frozen puff pastry shells
1 tablespoon (15ml) of olive oil
1 small onion, peeled and diced
1 clove of garlic, minced
2 tablespoons (30ml) white wine
½ cup (75g) diced mushrooms
½ cup (75 g) diced sous vide chicken (from above)
½ cup (120 ml) cream
1 tablespoon (15g) finely grated Parmesan
Salt and pepper, to taste
DIRECTIONS
Fill and preheat the SousVide Supreme to 146F/63.5C.
Rinse the chicken breast and pat dry. Season the chicken with salt and pepper.
Put the chicken breast into a food-grade cooking pouch and vacuum.  (Tip: When cooking sous vide chicken breasts, cook a few at a time, and then you can quick chill and freeze the remaining breasts for use another time. For the purpose of this recipe we need only one chicken breast.)
Submerge the pouch in the water oven and cook for at least 2 hours. After about 1 and half hours, you can start to prep and cook the other ingredients.

Preheat a traditional oven to 425F/215C.
Put the frozen puff pastry shells onto a baking tray covered with parchment paper and cook them in the traditional oven according to manufactures instructions, about 20 minutes.
Meanwhile, heat the olive oil in a medium-sized saucepan. Add the diced onions and cook for about 5-8 minutes until the onions become soft and translucent. Add the minced garlic and cook for a further 3 minutes.
Add the white wine, and continue to cook until the liquid evaporates.
And finally, add the diced mushrooms and cook until tender. Take the saucepan off the heat.

Once the chicken is cooked, remove and open the pouch, and chop the chicken into small dice.
Add the chicken to the mushroom mixture and return the saucepan to the heat.
Add the cream and Parmesan and cook until the sauce has thickened. Taste and add salt and pepper, as required.
Take the puff pastry shells from the oven. Remove the top circle of pastry from each one, and spoon the cream sauce into the pastry shells. Top the shells with the pastry circle and serve straight away
Share This Recipe with Friends!