Courtesy of Recipe Contest Winner, Cesar Pinon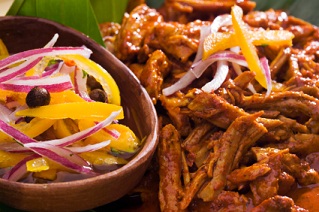 INGREDIENTS
1 pound (500 grams) pork loin
3 tablespoons (45 ml) achiote paste
3 ounces (100 milliliters) orange juice
1/2 teaspoon (2.5 ml) oregano
2 bay leaves
salt and pepper to taste
1 cup (240 ml) crushed pineapple, drained
INSTRUCTIONS
Fill and preheat the SousVide Supreme to 140F/60C.
In a bowl, prepare the seasoning by combining the achiote paste, orange juice, oregano, bay leaves and salt and pepper. Rub the pork all over with the seasoning mixture.
Put the loin into a cooking pouch and vacuum seal.
Submerge the pouch in the water oven and cook for 3 hours
Remove the pork loin from the pouch and slice the meat thinly.
Serve with a little crushed pineapple and eat it with corn tortillas and a cold beer … it is delicious!
Share This Recipe with Friends!