Prosciutto Wrapped Rabbit Saddle

Courtesy of Chef Jason Wilson, Crush, Seattle, WA.
Serves 4
…On the 10th Day of Christmas, my SousVide Supreme gave to me, 10 lordly rabbits a-leaping into a truly gourmet dish!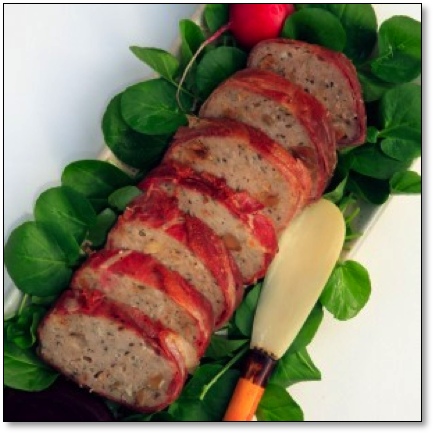 INGREDIENTS FOR THE RABBIT
1 pound  (0.9 kg) rabbit hind leg meat, boned, diced large
1/4 pound (114 g) bacon, diced large
1/4 pound (114 g) pork butt, diced large
1/2 teaspoon (2.5 ml) each coriander, clove, fennel, and juniper berry, finely ground
1/4 cup (60 ml) brandy
1 teaspoon (5 ml) fresh marjoram, finely chopped
1 teaspoon (5 ml) fresh thyme, finely chopped
1/2 cup (120 ml) heavy cream
12 slices prosciutto
4 rabbit loins
kosher salt, as needed
INGREDIENTS FOR THE PLATING
1 tablespoon (15 ml) olive oil
6 to 8 ounces (170 to 226 g) maiitake or chanterelle mushrooms
1 bunch dino kale, chiffonade
salt and pepper to taste
4 ounces (114 g) demiglace (for saucing)
DIRECTIONS
Preheat the SousVide Supreme water oven to 164F/73.5C
Grind the bacon, pork butt, rabbit hind leg meat and herbs through the small dye of a meat grinder.
Put the ground meat, cream, spices and brandy into the work bowl of a food processor and puree until smooth to make a rabbit mousse.
Pass the mousse through a fine tamis or sifter, so that the resulting mixture is free of sinew.
Chill the mousse for 30 minutes in the refrigerator.
Lay the slices of prosciutto onto of a sheet of cooking-safe plastic wrap (cling film) approximately 12 inches (30 cm) long, so that the prosciutto overlaps and provides a 6-inch (15 cm) wide sheet to work with.
Evenly cover the prosciutto with the rabbit mousse, spreading 1/3-inch (0.8 cm) thick, using a small offset spatula.
Place the rabbit loin in the center of the mousse and season lightly with kosher salt.
Slowly roll the prosciutto around the loin, so that the mousse and prosciutto encase it, pulling away the plastic wrap as you roll. Wrap the roll tightly in plastic wrap to create a compact cylinder.
Put the cylinder into a cooking pouch and vacuum seal.
Submerge in the water oven to cook for 4 hours.  Arrest the cooking by submerging the pouch in an ice water bath, then remove from vacuum pouch and plastic wrap and pat dry.
On the stove top, heat a sauté pan to high heat and sear the cylinder on all sides.
Finish the roasting in traditional oven, preheated to 350F/177C, for 6 minutes.
Meanwhile, in a skillet over medium high heat, warm olive oil and sauté the mushrooms and kale until tender and warm the demi-glace.  Season to taste with salt and pepper.
Slice and serve the rabbit with a drizzle of demi-glace and the sautéed mushrooms and kale.
---
No water oven? No problem. We can help!