Haricot Vert Salad Sous Vide

Courtesy of SousVide Supreme Culinary Specialist, Madeline Fiore
Serves 4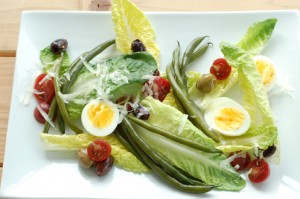 INGREDIENTS
12 ounces (340 grams) haricots vert or your favorite summer pole beans, trimmed
2 romaine hearts, washed and pulled apart
1 large heirloom tomato, sliced into 8 wedges OR 16 cherry tomatoes, halved
4 sous vide soft-cooked eggs, cut into halves
2 ounces (57 grams) Manchego cheese, grated
16 of your favorite olives
Madeline's Sherry Vinaigrette
1/6 cup (39 ml) sherry vinegar
1 small shallot, peeled and minced
1 tablespoon (15 ml) honey
½ cup (118 ml) extra virgin olive oil
Sea salt and freshly ground black pepper, to taste
INSTRUCTIONS
Fill and preheat the SousVide Supreme water oven to 183F/84C.
Put the trimmed haricots vert into cooking pouches, creating a single layer and vacuum seal.
Submerge the pouches in the water oven and cook for 20 minutes.
Meanwhile, make the vinaigrette

In a small bowl pour the sherry vinegar over the shallots and let them macerate for 15 minutes.
Once macerated, whisk the honey into the shallot mixture until well mixed.
Slowly whisk the olive oil into the mixture.
Season with salt and pepper to taste and set aside.

When the haricots vert are finished cooking, put them into a bowl and toss with ¼ cup of the sherry vinaigrette.
On a large serving platter, arrange the romaine hearts, haricots vert, tomatoes and eggs.  Sprinkle the cheese and olives on top and drizzle the salad with the remaining sherry vinaigrette.