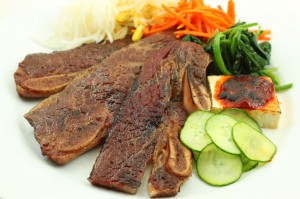 Courtesy of Harry Soo of Slap Yo' Daddy BBQ
Serves 4 to 6
INGREDIENTS
3 pounds (1.5 kg) Flanken-cut beef short, about 10-12 pieces
For the marinade
1 Asian pear, peeled and rough chopped
1 small white onion, peeled and rough chopped
6 cloves whole garlic peeled
1 stalk green onion, rough chopped
½ cup (120 ml) Korean soy sauce
½ can (6 ounces/180 ml) 7Up
½ cup (100 g) brown sugar
2 tablespoons (30 ml) honey
3 tablespoons (45 ml) sesame oil
1 teaspoon (5 ml) SYD Hot Rub or salt and pepper
DIRECTIONS
Puree marinade ingredients in a blender.
Sprinkle SYD Hot rub on both sides of the ribs
Arrange 4 ribs in a single layer in a large (gallon/3.8 liter) cooking pouch.
Pour the marinade over the ribs and seal the pouch. Repeat until all ribs are packaged. Save any excess (unused) marinade for future use. (You can freeze it.)
Refrigerate the ribs overnight to allow marinade to infuse the meat
Fill and preheat the SousVide Supreme water oven to 140F/60C.
Submerge the rib pouches in the water oven to cook for 72 hours (3 days.)
Remove and cut open the pouches.
To finish, you can sear, grill, or blow torch the ribs to get a nice surface char.
Serve with steamed rice and some Korean-style vegetables.
Share This Recipe with Friends!