with Barley Risotto
Courtesy of Recipe Contest winner, Nimu Ganguli
Serves 2
INGREDIENTS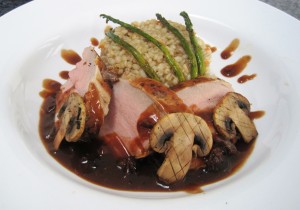 1 (12 ounce/340 g) Provimi veal tenderloin
salt and white pepper to taste
2 teaspoons (10 gm) dried cherries
2 tablespoons (30 gm) butter
2 shallots, peeled and cut brunoise (divided use)
1 1/2 ounces (50 ml) port wine
5 ounces (150 ml) demi glace
1 ounce (25 ml) white wine
1/3 cup, heaping (75 g) barley, uncooked
2 cups (500 ml) chicken stock
2 tablespoons (20 g) fresh red pepper, brunoise
2 large (15 g each) white mushrooms
1 tablespoon (15 ml) duck fat or lard
1 tablespoon (10 gm) dried porcini mushrooms
8 asparagus spears
2 1/2 teaspoons (10 gm) Parmesan cheese
INSTRUCTIONS
Fill and preheat the SousVide Supreme to 143F/61.5C.
Trim veal of excess fat and season it with salt and pepper.
Put the tenderloin into a large (gallon/3.8 liter) cooking pouch and vacuum seal.
Submerge the pouch in the water oven and cook for 2 hours.
Meanwhile, prepare the mushrooms for garnish:

Clean the white mushrooms with a towel and cut them into slices.
Score one side of each slice in a check pattern.
Warm the duck fat in a skillet over medium heat and lightly sauté the slices. Set aside.
Put the dried porcini into a separate saucepan, pour 2 cups (500 ml) of boiling water over them and let steep 20 minutes.
Remove the porcini from the water and chop finely.
Reserve the soaking water and bring it to simmer.

About 45 minutes before service, prepare the risotto

Bring 2 cups (500 ml )chicken stock to a simmer in a saucepan.
In large skillet add 1 tablespoon of butter and when melted, sweat the one of the shallots and the red pepper
Add the barley and heat until the pearls become coated and translucent.
Add ladle full of porcini water and let it absorb almost fully. Then alternate with a ladle of chicken stock, letting it absorb almost fully before adding more porcini water. And so forth.
When almost all stock and water has been added, toss in the diced porcini mushrooms and continue to cook until al dente.
Finish with grated parmesan, salt, and pepper for serving.

While the risotto is cooking, prepare the cherry sauce.

Coarsely chop dried cherries.
In sauce pan over medium heat, melt butter and sweat the remaining shallot.
Add port wine and reduce.
Add cherries, then demiglace, and simmer until reduced by half. Set aside.

Wash and trim the woody stems from the asparagus, put the spears a single layer into a cooking pouch; add a tablespoon of the butter and vacuum seal.
Submerge the pouch, along with the veal, in the water oven to cook for 30 minutes.
Transfer the pouch to an ice water bath for a few minutes.
At service, lightly heat with butter, and season to taste with salt and pepper
To plate the dish:
Remove pouch of veal from the water bath, remove the veal from the pouch, pat it dry and sear in hot pan with butter until golden brown. No more than a minute.
Cut the meat into 6 medallions.
Center a ring mould on a warmed plate, fill with risotto, and gently remove the ring.
Fan out asparagus spear to side of the plate.
Lay medallions of veal along one side of the risotto tower.
Drizzle sauce along lower edge of veal and top with the mushroom garnish
Share This Recipe with Friends!