Cinnamon Apples

From Sous Vide for the Home Cook by Douglas Baldwin
Serves 4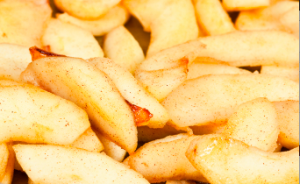 INGREDIENTS
4 medium apples, peeled and sliced
2 tablespoons (28 g) unsalted butter
1 tablespoon (14 g) brown sugar
¼ teaspoon (1 ml) ground cinnamon
DIRECTIONS
Fill and preheat the SousVide Supreme water oven to 185F/85C.
Put the apples, butter, sugar and cinnamon into a large cooking pouch.
Hold the top of the pouch closed and shake it vigorously to evenly distribute the sugar and cinnamon.
Arrange the slices in a single layer in the pouch and vacuum seal.
Submerge the pouch in the water oven and cook for 30 to 40 minutes.
Serve immediately, straight from the pouch.