Peaches Sous Vide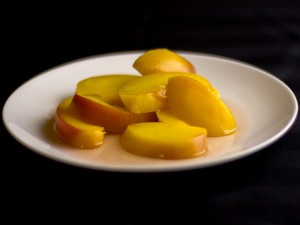 Courtesy of Steve Cylka at theblackpeppercorn.com
Serves 4
INGREDIENTS
4 peaches, halved and pitted
½ cup (120 ml) water
½ cup (96 g) sugar
⅓ cup (120 g) cognac or brandy
INSTRUCTIONS
Fill and preheat the SousVide Supreme to 180F/82C.
In a small saucepan, heat the water and sugar, stirring often. Once the sugar has dissolved, remove from heat and cool.
Stir in the cognac or brandy and set the syrup aside.
Put the peach halves into a cooking pouch, pour in the syrup, and vacuum seal, being careful that the syrup does not get sucked into the vacuum sealer. (Alternatively, use a zip-closure cooking pouch and use the displacement method (Archimedes' Principle) to remove the air and seal the pouch.
Submerge the pouch in the water bath and cook for 30-40 minutes.
Remove from the water bath and immediately submerge in an ice bath (half ice/half water) to stop the peaches from continuing to cook.
Just prior to serving, peel the skin off the peaches.
Serve the peach half on its own or with crème Anglaise or vanilla ice cream.