…served over Polenta with Pancetta & Greens
Courtesy of Culinary Specialist, Madeline Fiore
Serves 4
…on the 6th Day of Christmas, my SousVide Supreme gave to me, 6 geese a laying an egg to perfectly cook and serve over polenta!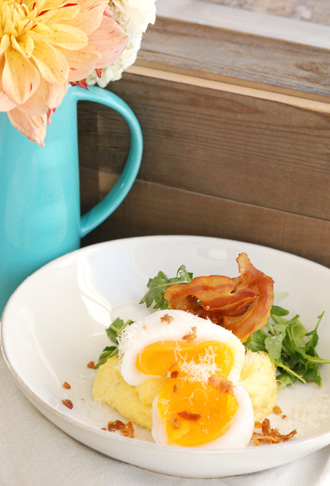 INGREDIENTS FOR THE POLENTA
1 cup (210 g) coarse ground polenta
6 tablespoons (88 g) butter, divided
4 cups (946 ml) whole milk
8 ounces (227g) Parmesan, grated
Sea salt and freshly ground black pepper to taste
DIRECTIONS FOR THE POLENTA
Fill and preheat the SousVide Supreme water bath to 190F/87C.
Put the polenta, butter and milk into a cooking pouch and seal using the water displacement method, Archimedes Principle.
Submerge the pouch and cook for 2 to 2 ½ hours.
Remove the pouch from the water oven and pour immediately into a large bowl with the Parmesan cheese.  Toss together and season with salt and pepper.
If not using right away, keep warm — see step 1 below.
Alternatively, you can pour the polenta into a greased loaf pan, refrigerate until firm, and slice. Then reheat, by frying the slices in butter on a hot skillet.
INGREDIENTS FOR THE EGGS AND PANCETTA
Tip: Precise cooking times are key when cooking eggs in the SousVide Supreme.  This extra step of setting your timer will give you the most gorgeous soft-cooked egg! Simply follow this chart courtesy of Douglas Baldwin from his book Sous Vide For the Home Cook.
4 goose eggs of as closely the same size as possible
8 thin slices of pancetta
4 handfuls of your favorite greens, tossed with a little extra-virgin olive oil
 Sprinkling of sea salt
Freshly grated Parmesan, for garnish
DIRECTIONS FOR THE EGGS AND PANCETTA
Fill and preheat the SousVide Supreme to 167F/75C. (Or drop the temperature of the water oven by adding ice and cold water, if you've just cooked the polenta recipe above.  (Tip: Let the polenta pouch stay in the water oven along with the eggs to keep it warm.)
Measure the circumference of your goose eggs.  Using Baldwin's helpful chart, calculate exactly how much time you need to cook.
Gently set the goose eggs (no need for pouches) directly onto the perforated bottom grill of the water oven and set the timer for the required cooking time. (My goose eggs measured 7-inches (15 cm), therefore I set my timer to 27 minutes.)
On the stove top, warm a cast-iron skillet over medium heat and cook the pancetta until golden brown, about 5 to 7 minutes.  Transfer to a plate covered with a paper towel to blot dry; set aside.
Use the lifting rack (or tongs) to pull the eggs from the water oven, give them a quick rinse under cold water, crack and carefully peel.
Serve over the polenta and garnish with crispy pancetta, your favorite greens and a sprinkling of freshly grated Parmesan.
Festive tip: If you'd like to dress this dish up a bit more for a holiday brunch, then add Sous Vide Vanilla Butter Shrimp to your menu and scatter a few on top!
Share This Recipe with Friends!