Gluten-Free Sous Vide Fried Chicken

Serves 4
INGREDIENTS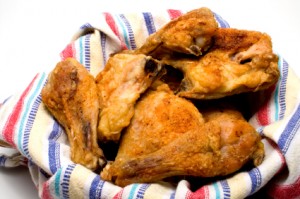 4 chicken breast halves, boneless, skin on (or 4 thighs and 4 drumsticks, skin on)
4 tablespoons (57 g) butter, optional
2 cups (480 ml) high-smoke point vegetable oil or lard for pan frying (more if using a deep fryer)
For the brine
1 quart (0.96 liters) water
6 tablespoons (90 g) kosher salt
1 tablespoon (15 ml) black peppercorns
For the coating
2 eggs
1 cup (120 g) gluten-free (rice) bread crumbs
½ teaspoon (2.5 ml) salt
½ teaspoon (2.5 ml) black pepper
½ teaspoon (2.5 ml) herbs de Provence

DIRECTIONS
Make the brine by putting the water and salt into a large (gallon/3.8 liter) zip closure bag and stirring to dissolve; add the peppercorns.
Put the chicken breasts into the brine, zip the seal, and refrigerate for at least 2 hours.
Fill and preheat the SousVide Supreme water oven to 146F/63.5C for white meat or to 176F/80C for dark meat.
Remove the breasts from the brine, rinse, and pat dry.
Put the breasts (one or more in a single layer) into cooking pouch(es) and vacuum seal.
Submerge in the water oven to cook for 60 to 90 minutes for breasts or wings and 2 to 3 hours for thighs and legs.
Remove from the water oven and either proceed or you can quick chill the breasts, by submerging the pouch(es) in an ice water bath (half ice, half water) for 15 minutes and refrigerating or freezing for later use.
Heat the oil in a heavy skillet (or deep fryer) to 350F/175C.
When ready to fry the chicken, prepare the coating:

In a shallow bowl, beat the eggs well.
Put the remaining coating ingredients into another shallow bowl and mix to combine.
Remove the breasts from the pouch(es) and pat dry with paper towels.

Dip each piece of chicken in the egg, coating both sides, then dredge both sides in the bread-crumb mixture.
Gently slip the coated breast into the hot oil and fry just until golden on all sides.
Transfer with a slotted spoon or tongs to paper towels to drain. Eat immediately! with your favorite side dishes.