Grilled 'Gamecock' Wings in a Crimson Tide

Courtesy of Tailgate Recipe Challenge winner and Arkansas Razorback fan, Chris C
Serves 8 to 10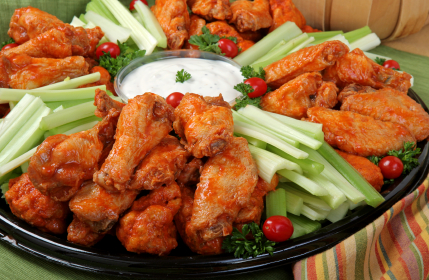 INGREDIENTS
For the wings
4 to 5 pounds (2 kg) chicken wings, split into flats and drumettes
1 tablespoon (15 ml) kosher salt
Carrot and celery sticks for serving
Ranch or blue cheese dressing for serving
For the Crimson Tide dipping sauce
1 stick (114 g) unsalted butter, melted
1/2 cup (120 ml) Tabasco or Cholula hot sauce
1 ½ tablespoons (22.5 ml) apple cider vinegar
1 tablespoon (15 ml) tomato paste
1 tablespoon (15 ml) honey (or equivalent non-caloric sweetener, if desired)
½ teaspoon (2.5 ml) Worcestershire sauce
½ teaspoon (2.5 ml) garlic powder
salt and black pepper to taste
INSTRUCTIONS
Fill and preheat the SousVide Supreme water oven to 170F/77C.
Season the wings with salt and vacuum seal in cooking pouches in a single layer, using as many pouches as needed.
Put all sauce ingredients into a small (quart/0.9 liter) zip-closure cooking pouch and mix well. Use the displacement method (Archimedes' Principle) to evacuate the air and zip the seal closed. Refrigerate until about 30 minutes before the wings have cooked.
Submerge the pouch(es) of wings in the water oven to cook for 4 hours (or up to 8 hours.) About 30 minutes before they are finished, submerge the Crimson Tide pouch to warm.
If tailgating off site, transport the cooked wings to the tailgate in the water oven. It will keep them nice and hot and ready to finish as needed.
When ready to finish, heat a charcoal or propane grill to high heat.
Remove wings from the pouch(es) and pat very dry with paper towels.
Pour about half the Crimson Tide into a bowl and dip each wing in it to coat before putting onto the hot grill just long enough to caramelize the sauce and impart smoky flavor and grill marks.
Tent with foil to keep warm until all wings are ready. Take a short break to CALL THE HOGS!
Serve wings with more Crimson Tide for dipping, accompanied by the carrot and celery sticks and plenty of dressing.