Pork Cheeks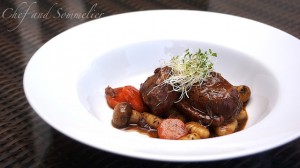 Courtesy of Chef and Sommelier
(Serves 6)
INGREDIENTS
12 pork cheeks
extra virgin olive oil
sea salt, to taste
ground pepper, to taste
12 whole cloves
4 bay leaves
4 sprigs rosemary
12 cloves garlic, peeled and crushed
Alfalfa sprouts or fresh herbs for garnish
DIRECTIONS
Fill and preheat the water bath to 180F/82C.
Remove any remaining cartilage and fat from the cheeks. (Do not remove the silver skin that runs through the center of each cheek). Wash them under cold running water and pat dry with paper towels.
Drizzle the cheeks with olive oil and season them liberally all over with salt and pepper.
Divide the cheeks and all remaining ingredients, equally, among 3 or 4 vacuum pouches and vacuum seal the pouches.
Submerge the pouches in the water bath to cook for 8 hours.
Once cooked, quick chill the cheeks in their pouches, in ice water (half ice, half water) for 20 to 30 minutes. Refrigerate the pouches for up to 48 hours if not ready to finish, or label and freeze indefinitely. (Reheat in the pouches in the water oven for 20 to 30 minutes along with the vegetables for the sauce below before serving.)
For the sauce and finishing:
2 carrots, peeled and cut into rounds
15 shallots, peeled
olive oil
salt and pepper to taste
5 tablespoons (150 g) unsalted butter
7 ounces (200 g) pancetta (or bacon)
8 ounces (250 g) whole mushrooms, cleaned
1 tablespoon (15 ml) balsamic vinegar
6 ½ ounces (200 ml) dry white wine
2 tablespoons (30 ml) dark soy sauce
2 teaspoons (10 ml) sugar
30-40 pieces gnocchi
If necessary, fill and preheat the SousVide Supreme to 176F/80C.
Peel the carrots and shallots and put each into its own cooking pouch.
To the shallots, add some olive oil, salt and pepper.
To the carrots, add a generous tablespoon (20g) of the butter and some salt.
Vacuum seal the pouches and submerge them in the water bath to cook for an hour for the carrots and 30 minutes for the shallots. (If reheating the cheeks, put them in when you drop the carrots and remove them when you drop the shallots.)
Remove the cheeks, open the corner of the pouches, and strain the pouch juices through a fine sieve. Fold the open corners of the pouches over, clip them closed and return the pouches to the water bath just to keep warm.
Meanwhile, cut the mushrooms in halves and dice the pancetta.
On the stovetop, heat the remaining butter in a medium size oven-proof casserole dish and start to brown add the pancetta and mushrooms. Add the sous vide cooked shallots and their pouch liquid, and continue to sauté until golden brown.
Add the balsamic vinegar and the white wine to deglaze the casserole and continue to cook for a few minutes more until the wine has reduced and become sticky.
Add the carrots, cheeks, and strained pouch liquid to the casserole dish and bring to a gentle simmer.
Add the soy sauce and sugar, cover the dish with a lid, and simmer for 15-20 minutes to ensure that the cheeks are piping hot and the shallots are tender.
Add the gnocchi and reduce the liquid to a shiny and sticky consistency. Adjust the seasonings, if needed.
To plate:
1. Spoon the carrots, shallots, mushrooms and gnocchi over the bottom of deep pasta bowls.
2. Arrange the cheeks and finish the dish with the sauce.
3. Garnish with alfalfa sprouts or any herbs.
4. Serve immediately.