Pumpkin Puree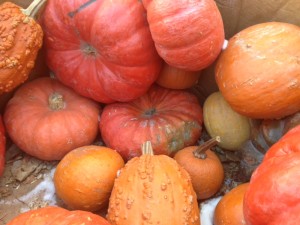 Makes about 1-1/2 to 2 cups, depending on the size of the pumpkin.
(This technique works well for making purees from any type of winter squash, from root vegetables–such as carrots, potatoes, beets, or parsnips–and from most fruits.)
INGREDIENTS
1 small pie pumpkin, peeled, seeded, and diced into 1-inch (2.5 cm) pieces
Salt, to taste (optional)
Water, if needed, to thin the puree

INSTRUCTIONS
Fill and preheat the SousVide Supreme to 180-185F/82-85C.
Arrange the pieces of pumpkin in a large cooking pouch, evenly distributed in a single layer.
Add the salt, if using, and vacuum seal the pouch.
Submerge the pouch in the water oven and cook for 45 minutes to 1 hour, until quite tender.
Open the pouch and pour the pumpkin into a food processor work bowl or a blender and puree until smooth. Add a little water, if needed, to achieve the consistency you need.
If not using right away, put the puree into a large zip closure cooking pouch, remove as much air as possible with your hands, zip the seal and quick chill in the pouch, submerged in an ice water bath for at least 20 minutes.  Refrigerate for up to 48 hours.
Great to use for making pies, pumpkin bread, or as a pure and natural baby food.