Chicken Vegetable Soup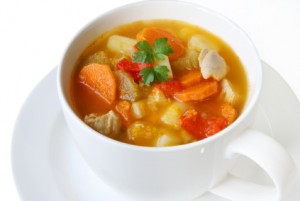 Serves 4
INSTRUCTIONS
1 cup (180 g) diced fresh zucchini
1 cup (175 g) diced fresh red bell pepper
1 cup (230 g) chopped cauliflower
4 to 6 baby carrots, chopped
½ cup (75 g) diced sweet onion
4 cups (120 g) fresh spinach leaves
½ teaspoon (2.5 ml) garlic powder
½ teaspoon (2.5 ml) onion powder
½ teaspoon (2.5 ml) sea salt
½ teaspoon (2.5 ml) ground black pepper dash cayenne pepper, if desired
1 tablespoon (15ml) olive oil
2 cups (250 g) diced, sous vide-cooked chicken breasts (no need to sear them)
1 quart (0.96 liter) chicken broth
INSTRUCTIONS
Fill and preheat the SousVide Supreme water oven to 183F/84C.
In a small bowl, combine all dry spices and seasonings and sprinkle the mixture evenly over the vegetables.
Put the seasoned vegetables in an even layer into a cooking pouch and vacuum seal.
Submerge and cook in the water oven for at least an hour, but up to 2 hours is fine.
If not using right away, quick chill the vegetables in their pouch in an ice water bath (half ice/half water) for at least 30 minutes and refrigerate for up to 48 hours.
To assemble the soup, in a soup pot, warm the olive oil over medium high heat.
Add the chicken broth and bring to a boil.
Reduce heat to medium, add the cooked chicken and cooked vegetables and their juices and continue to cook for another 3 to 5 minutes.
Enjoy!
TIME SAVING​ T​IP!
Make a double batch of soup to have one for dinner with a salad and another for lunches for the next two days.
Ladle the extra batch of soup, in 8-ounce servings, into four small (quart/0.96 liter) cooking pouches.
Remove as much air as possible, using just your hands, and seal.
Quick chill the sealed pouches in an ice bath (half ice/half water) for 20 minutes and refrigerate for use up to 48 hours or freeze.
Re-warm the soup portion in its pouch in the SousVide Supreme set to 165F/74C for 30 minutes or open, pour into a microwave safe bowl, and warm in the microwave.