Makes 1-1/4 quarts (1.2 liters)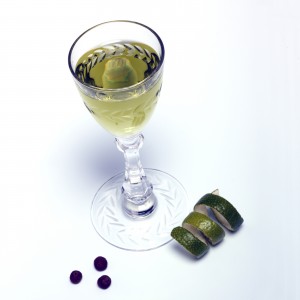 INGREDIENTS
4 cups (946 ml) simple syrup*
1 cup (237 ml) light rum
5 limes, for zest only
4 drops almond extract
8 whole cloves
5 whole allspice berries
2 drops orange flower water
DIRECTIONS
Fill and preheat the SousVide Supreme water oven to 135F/57C.
Put all ingredients into a large (1 gallon/3.8 liter) zip-closure cooking pouch. Use the displacement method (Archimedes Principle) to remove as much air as possible from the pouch and zip it closed.
Submerge the pouch in the water oven and cook for 2 hours. The contents must be completely submerged to ensure even cooking.
Remove the pouch and submerge it in an ice water bath (half ice, half water) for 20 to 30 minutes to quick-chill the contents.
Strain the mixture through a fine mesh sieve into a clean, stoppered bottle.
Store the cordial, tightly capped, in the refrigerator for up to six weeks.
*Simple Syrup Makes about 1 quart (0.9 liter)
INGREDIENTS
5 cups superfine (castor) sugar
5 cups water
DIRECTIONS
On the stovetop, over medium heat, in a large pot, mix the sugar and water and stir well.
Cook, stirring, until the sugar has completely dissolved into the water.
If not using right away, let cool for a few minutes, then pour into clean, stoppered bottles and store, refrigerated, for up to six weeks.
Share This Recipe with Friends!