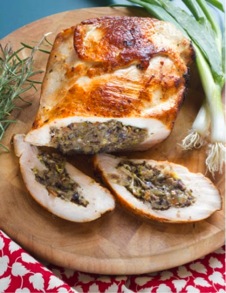 Courtesy of SousVide Supreme Culinary Specialist, Sophie
Serves 4
INGREDIENTS
2 pounds (0.9 kg) boneless turkey breast, with skin
2 tablespoons (28 g) butter, divided use
¼ cup (20 g) finely chopped green onions (scallions)
4 cups (240 g) finely chopped leeks
¼ cup (60 ml) white wine
3 cloves garlic, peeled and crushed
2 large Portobello mushrooms (7 ounces/200g), washed and finely chopped
5 tablespoons (75 g) breadcrumbs
1 teaspoon (5 ml) finely chopped herbs (I used this mix -rosemary, parsley and thyme)
½ teaspoon (2.5 ml) salt
Some freshly ground black pepper
Salt and pepper
1 tablespoon (15ml) any vegetable oil with a high smoke point
DIRECTIONS
Fill and preheat the SousVide Supreme water oven to 149°F (65 °C).
Rinse the turkey breast and pat dry.
Using a very sharp knife, pierce a hole in the thick end of the breast and gently slide the knife into its center to create a deep pocket that extends almost to the bottom (thin end) of the breast.
Put the breast on a plate and leave in the fridge until you are ready to stuff it.
To make the stuffing, put 1 tablespoon of the butter into large heavy bottomed saucepan. Once the butter has melted, add the green onions and leeks. Cook for about 7-10 minutes on a medium heat. You want the leeks to become meltingly tender.
Add the wine and garlic, and cook until the wine has boiled off.
Then, add the mushrooms and cook for a further 5 minutes, until the mushrooms are soft and tender.
Finally, add the breadcrumbs and fresh herbs. Taste and season with salt and pepper.
Even though the vegetables are all finely chopped, I find it a good idea to put the stuffing in a food processor and pulse once or twice just to make the stuffing into a tighter paste.
Allow the stuffing to cool.
Then, take the breast meat out of the refrigerator. Put the stuffing in a plastic food-grade zip-closure bag, zip closed, cut one corner out, and pipe the stuffing into the breast cavity. Season the outside of the breast with salt and pepper.
Put the turkey breast into a large food-grade cooking pouch along with the remaining tablespoon of butter and vacuum seal the pouch.
Submerge the pouch into the water bath and leave to cook for between 3 and 4 hours.
Once the breast has cooked, remove it from the water bath and take the breast out of the pouch. You can reserve the juices for gravy.
Put the breast on a plate and pat it dry with paper towels.
Put the vegetable oil into a large frying pan and heat over a high heat.
When the oil is very hot, put the turkey into the pan, skin side down.
Cook for a couple of minutes, until the skin is crisp and golden. Turn the breast around to color on both sides.
Share This Recipe with Friends!