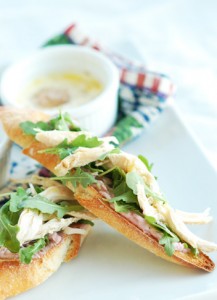 …a perfect use for leftover turkey!
Courtesy of SousVide Supreme Culinary Specialist Madeline Fiore
Serves 4
INGREDIENTS

For les oeufs:
4 to 8 egg
2 teaspoons butter (10 ml), room temperature, plus extra for ramekins
4 tablespoons (60 ml) heavy cream
Sea salt & freshly ground black pepper to taste

For the tartines:
8 thin slices of baguette, lightly toasted
6 ounces (170 g) fromage blanc
6 ounces (170 g)

SousVide Cranberry Sauce

3 ounces (85 g) arugula, washed
16 ounces (454 g) shredded turkey
Extra virgin olive oil, for drizzling
INSTRUCTIONS
Adjust the water level for baking as follows:

Elevate the bottom perforated grill about 1 inch (2.5 cm) on a non-rusting baking rack or baking platform.
Fill 6 ramekins ¾ full with water and set them on the rack.
Adjust the water level by adding or removing water to bring the water level to within ½ inch (1.25 cm) of the rim of the ramekins.
Remove the ramekins and dump out the water. Dry the ramekins and brush each with melted butter, set aside.

Preheat the water oven to 167 F/ 75 C for a soft yolk or 169 F/ 76 C for a hard yolk.
Crack 1 to 2 eggs (whichever you prefer per serving) into each buttered ramekin, put ½ teaspoon (2.5 ml) of butter in each ramekin, pour 1 tablespoon (15 ml) of cream over the eggs and season with salt and pepper.
Carefully put into the water oven on top of the perforated grill and bake for 15 minutes at 167 F/75 C for soft yolks or 15 minutes at 169 F/76 C for hard yolks.
Meanwhile, in a medium bowl stir together the fromage blanc and cranberry sauce until well mixed.
To serve:
Slather each baguette slice with the cranberry fromage blanc, top with arugula and shredded turkey and drizzle with olive oil. Serve with warm Oeufs en Cocotte.
Share This Recipe with Friends!