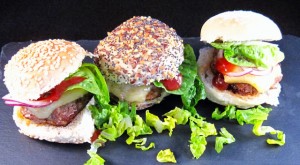 Courtesy of Jan Bennett A Glug of Oil
Makes 18 mini burgers
INGREDIENTS

For the burgers
2 pounds (1 kg) good quality minced pork
8 rashers/slices smoked back bacon, rindless, finely chopped (Canadian bacon)
1 large red onion, peeled and finely chopped
1 teaspoon (5 ml) smoked paprika
1 good pinch black pepper
1 pinch salt
1 to 2 tablespoons (15 to 30 ml) chipotle paste
olive oil, for browning
For serving
18 mini burger buns
Cheese slices (your favorite variety)
Baby gem lettuce leaves, torn
Tomato and onion slices
Your favorite burger BBQ relish
INSTRUCTIONS
Fill and preheat the SousVide Supreme water oven to 134F/56.5C for medium-rare (140F/60C for medium or 150F/65.5C for medium-well).
On the stovetop, fry bacon in an oiled pan for about 5 minutes until almost cooked through.
Add the onion and cook for 5 minutes until it is tender and the bacon is starting to crisp.
Sprinkle in the smoked paprika and stir to mix. And continue to cook for 1 to 2 minutes, then remove from heat, draining excess fat on kitchen paper and leave to cool.
Put the pork into a big bowl along with the salt and pepper.
Add the chipotle paste and cooled onion and bacon and mix using your hands. Take care not to over mix or the burgers will lack texture.
Shape the mixture into balls the size of golf balls and flatten into patties.
Divide the patties, in a single layer, between 2 large (gallon/3.8 liter) cooking pouches. Do not seal yet, but pop them into the freezer for about an hour, so that the burgers don't deform during the vacuum sealing process.
When ready to cook, submerge the pouches in the water oven to cook for 2 hours.
Once cooked, open the pouches, remove the burgers with care, and pat them dry on paper towels (kitchen paper).
Share This Recipe with Friends!