Teriyaki Sesame Chicken Bites

Courtesy of Jan Bennet, A Glug of Oil
Makes 16 – 20 bites (easily multiplies for bigger parties)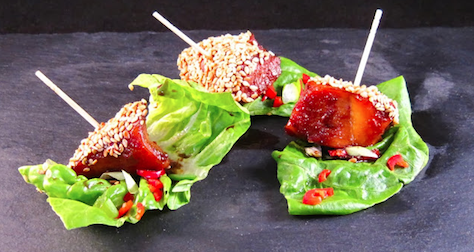 INGREDIENTS
2 skinless chicken breast fillets
For the marinade *see note
1 tablespoon (15 ml) toasted sesame oil
1 tablespoon (15 ml) light soy sauce
1/2 tablespoon (7.5 ml) dark soy sauce
5 tablespoons (75 ml) clear honey
1 tablespoon (15 ml) Mirin
1 tablespoon (12 g) castor sugar
1 pinch (about 1 g) ginger powder
1 teaspoon (5 g) white pepper
For serving
1/2 cup (80 g) toasted sesame seeds
4 gem (butter) lettuce leaves
1 or 2 red chile peppers, stemmed, seeded and finely chopped
1 or 2 spring onions, chopped, for garnish
INSTRUCTIONS
Fill and preheat the SousVide Supreme water oven to 146F/63.5C.
Mix the marinade ingredients together in a small bowl.
Cut each chicken into bite-sized pieces and put into a separate bowl.
Add just a couple of tablespoons of the marinade mixture to the fillets and stir well to coat, keeping the rest of the marinade for later.
Drain excess marinade from the chicken pieces; put them in a single layer into a suitably-sized cooking pouch and vacuum seal.
Submerge the pouch in the water oven and cook for a minimum of one hour, but of course the chicken can stay there for a good few hours until you are ready to finish the bites for serving. (You could also, at this point, quick chill the chicken, in its pouch, submerged in ice water for 15 minutes, and refrigerate for up to 48 hours or freeze for weeks. Simply reheat in the cooking pouch in the water oven at the cooking temperature for 30 minutes before finishing.)
Once the chicken has cooked at least the minimum time in the water oven, remove the pouch and carefully cut open with scissors, taking care of the hot steam. (Please don't be fussed that at this stage the chicken will look like all the pieces have stuck together, they haven't – just carefully pull them apart.)
To finish
Pour some toasted sesame seeds into a small bowl.
Heat up a frying pan on the stovetop, give the marinade a stir and add it and the chicken pieces to the pan.
Quickly stir the chicken pieces (remember they are already cooked) to coat in the syrupy marinade.
Spear each piece with a cocktail pick/stick, dip one side of each chicken piece into the toasted sesame seeds.
Remove the cocktail stick and turn the chicken piece over; re-insert the cocktail pick/stick, so the sesame-coated side is up. Set aside. Repeat until all chicken is coated.
To assemble for serving, put each bite onto a piece of lettuce, sprinkle with the chopped chile and spring onions, and enjoy!
* Please note if you plan to cook the chicken in advance and refrigerate or freeze it before finishing, you will only need to make half of this marinade mixture, as it won't keep longer than a day.