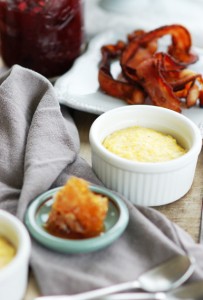 …a great use for leftover turkey!
Courtesy of SousVide Supreme Culinary Specialist, Madeline Fiore
Serves 6
INGREDIENTS
Melted butter, enough to butter the ramekins
1 cup (240 ml) water
1 cup (240 ml) half-and-half
3/4 teaspoon (4 ml) fresh rosemary, minced
1 tablespoon (15 ml) honey
¼ teaspoon (1 ml) sea salt
2/3 cup (112 g) cornmeal
2 ounces (57 g) Manchego cheese, grated
2 eggs, separated
3 ounces (85 g) turkey, cooked and shredded
INSTRUCTIONS
Adjust the water level for baking as follows:

Elevate the bottom perforated grill about 1 inch (2.5 cm) on a non-rusting baking rack or baking platform.
Fill 6 ramekins ¾ full with water and set them on the rack.
Adjust the water level by adding or removing water to bring the water level to within ½ inch (1.25 cm) of the rim of the ramekins.
Remove the ramekins and dump out the water. Dry the ramekins and brush each with melted butter, set aside.

Preheat the SousVide Supreme water oven to 195 F/90.5 C.
In a medium saucepan on a traditional stovetop, bring the water, half-and-half, rosemary, honey and sea salt to a boil.
Slowly whisk in the cornmeal. Reduce the heat to low and stir constantly until all liquid is absorbed and the mixture is creamy, about 2 minutes.
Pull the pan off of the heat and stir in the cheese until melted then stir in the egg yolks.
Fold in the shredded turkey and set aside.
In a separate bowl whisk together the egg whites until soft peak.
Fold into the cornmeal mixture in three parts.
Scoop the mixture into the prepared ramekins and bake at 195 F/90. C for 25 minutes. Once cooked, remove from the water oven and let cool on a wire rack for 5 to 10 minutes before unmolding and serving.
Share This Recipe with Friends!