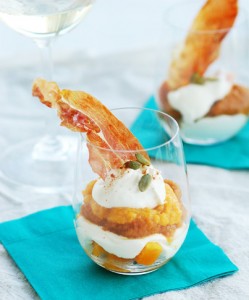 Courtesy of SousVide Supreme Culinary Specialist, Madeline Fiore
Serves 6
INGREDIENTS

For the squash puree:
1 ½ cups (355 ml) mashed sous vide-cooked squash
1/3 cup (80 ml) honey
1 ounce (28 g) unsalted butter, melted
1 ounce (60 ml) crème fraiche
For the mascarpone cream:
8 ounces (227 g) mascarpone, divided
3/4 cup (180 ml) heavy whipping cream
For verrine assembly:
6 thin slices prosciutto
9 ounces (255 g) sous vide-cooked squash, cubed
Sea salt to taste
Mashed squash (as above)
Mascarpone cream (as above)
1/3 cup (80 ml) toasted or spiced nuts or seeds (sesame or your favorites)
Fleur de sel, to taste
INSTRUCTIONS
In a bowl, stir together the mashed squash, honey, melted butter and crème fraiche until smooth. Set aside.
In a separate bowl, whisk together the mascarpone and heavy whipping cream until light and fluffy.
In a skillet on the stovetop, cook the prosciutto over medium-high heat until caramelized and golden on each side. Once cooked, blot with paper towels.
To assemble the verrines:
1. Toss together the sous vide cooked cubed squash with sea salt to taste.
Put about 1 ½ ounces (43 g) cubed squash in the bottom of every serving glass.
Spoon a good-sized dollop of mascarpone cream over the squash.
Divide the pureed squash mixture evenly amongst the serving glasses as the next layer.
Add another dollop of mascarpone cream.
Sprinkle nuts or seeds and a pinch of fleur de sel on top.
Garnish with prosciutto and serve immediately.
Share This Recipe with Friends!