Chicken Stock Sous Vide

Courtesy of SousVide Supreme Culinary Specialist, Madeline Fiore
Yields approximately: 135-170 fluid ounces, 4-5 liters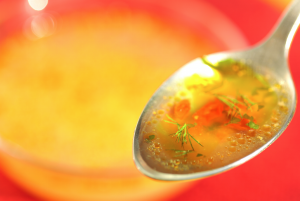 INGREDIENTS
10 to 12 pounds (5 to 6 kg) chicken bones/necks/wings/legs
1 pound (500 g) yellow onion, peeled and cut into halves
8 ounces (250g) carrots, large chop
8 ounces (250 g) celery, large chop
1/2 teaspoon (2.5 ml) black peppercorn
10 sprigs fresh thyme
small handful parsley stems
1 bay leaf
170 to 200 fluid ounces (5 to 6 liters) cold water, divided
DIRECTIONS
In the traditional oven, roast the chicken bones/pieces at 400F/200C until dark brown (about 1-1/2 hours).
Add roasted chicken and onion and all remaining ingredients except for a cup of the water directly to the SousVide Supreme. (Remove the universal rack.)
Deglaze the roasting pan by adding the cup of water to the pan and scraping any brown sticky bits, add this to the SousVide Supreme.
Set the machine to 194 F/90 C and cook for 6 to 8 hours.
Using a ladle, strain the stock through a fine mesh strainer and into large bowl.
Using an ice-water bath, cool the stock and put in the refrigerator overnight. (Chilling the stock overnight allows the chicken fat to rise to the top of the liquid.)
Scrape and pull the surface fat off and discard.
Reserve the stock you will be using for your recipe and pour the remaining into airtight containers and store in the freezer for up to 3 months.