Poached Pears with Vanilla and Cardamom

Courtesy of Chef Michael Solomonov of Zahav, Philadelphia, PA
On the 1st Day of Christmas, my SousVide Supreme gave to me… a perfectly poached pear for all to see!
Serves 4
INGREDIENTS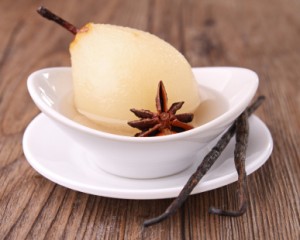 2 large, red Bartlett pears, rinsed and dried
3 ounces (100 grams) raw honey
½ fresh vanilla bean, split and scraped
4 pods white cardamom, crushed
INSTRUCTIONS
Fill and preheat the SousVide Supreme to 158F/70C.
Peel, core, and halve the pears and put them into a cooking pouch with the honey, vanilla, and cardamom.
Submerge in the water oven to cook for 30 to 45 minutes, depending on ripeness. They should be past "al dente".
Carefully remove them from the water bath and serve, immediately, with your favorite ice cream or just by themselves.