Boeuf Bourguignon Sous Vide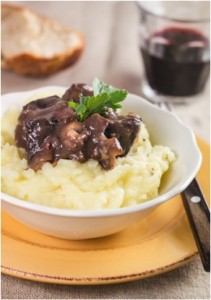 Courtesy of SousVide Supreme Culinary Specialist, Sophie
Serves 2 or 3
INGREDIENTS
For the meat
1 pound (455g) stewing meat, cut into cubes
salt and pepper, for seasoning, to taste
2 sprigs fresh thyme, stems removed (divided use)
For the sauce
1 tablespoon (15ml) olive oil
1 medium onion, peeled and finely sliced
2 garlic cloves, peeled and finely chopped
3 slices (100g) smoky bacon, diced
1 cup (50g) button mushrooms, wiped clean and quartered
1 tablespoon (15g) butter
1 heaped tablespoon (10g) all-purpose flour
¾ cup (178 ml) red wine
1 1/3 cup (315 ml) beef stock (reserved cooking juices plus store bought beef stock)
¼ teaspoon (0.6 ml) salt
freshly ground pepper to taste
DIRECTIONS
Fill and preheat the SousVide Supreme to 140F/60C.
Dry the stewing meat with some paper towels and season it with salt, pepper and thyme leaves.
Put the seasoned meat into a food-grade cooking pouch and vacuum seal.
Submerge the pouch in the water bath and cook for 24 hours.
Once cooked, remove the pouch from the water bath, open it and strain the accumulated juices into a bowl. Reserve the juices for later use.
Heat the olive oil in a large nonstick skillet over a high heat. Pat the meat dry with some paper towels. Once the oil is hot, add the beef to the skillet and quickly sear the meat on all sides. Be careful not to over crowd the pan, or else the meat won't brown. It's advisable to cook the meat in a few batches. Remove the meat from the pan and leave to cool, while you make the sauce.
To make the sauce
Reduce the heat of the skillet to medium, add the sliced onions to pan, and cook the onions for about 8 minutes, until soft and golden.
Add the chopped garlic and cook for a further two minutes. Remove the onions and garlic from the pan and leave aside on a clean plate.
To the same skillet, add the bacon and cook for 8 minutes. At the later stage of cooking, add the mushrooms and cook with the bacon for 4 to 6 minutes. Remove the bacon and mushrooms and leave aside on a plate.
Take the skillet off the heat and use a dry paper towel (kitchen paper) to remove excess bacon grease. Once the skillet is clean, put it back on a medium heat and melt the butter.
Add the flour and cook the butter and flour until they turn a golden brown color (about 5 minutes).
Add the wine and cook, stirring constantly to prevent lumps from forming, over a medium to high heat to cook off the alcohol.
Add the reserved beef juices, beef stock, and thyme leaves and cook for an additional 10 minutes, until the sauce is smooth and glossy.
Finally add the cooked onions, garlic, bacon, mushrooms and meat. Cook for a further 8 minutes to bring all the ingredients back to temperature. Taste and adjust seasonings with salt and pepper.
Serve with some Creamy Mashed Potatoes.