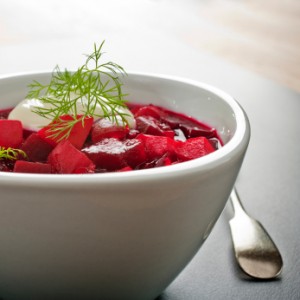 Serves 8
INGREDIENTS
4 large beets, peeled and sliced
4 large carrots, peeled and sliced
1 large onion, peeled and sliced
1 large Russet potato, peeled and sliced
½ head red cabbage, thinly sliced
2 quarts (1.9 liters) beef or vegetable broth
1/2 cup (20 g) chopped fresh dill
3 tablespoons (45 ml) red wine vinegar
Salt and pepper to taste
1 cup (240 ml) sour cream, for garnish
Fresh dill fronds, for garnish
DIRECTIONS
Fill and preheat the SousVide Supreme to 182F/83C.
Put the beets, carrots, onion, and potato into a large (gallon/3.8 liter) cooking pouch in a single, even layer and vacuum seal. If necessary use two pouches to prevent overfilling.
Put the cabbage in a separate large cooking pouch and vacuum seal.
Submerge the pouches in the water oven to cook for at least 1 hour (and up to 3 hours) until quite tender.
Remove the pouch(es) containing the beets, allow to cool enough to handle, and puree the vegetable mixture in a food processor or blender until smooth.
In a large soup pot, bring the beef broth to a boil. Reduce heat and stir in the beet puree, cooked cabbage, dill, vinegar, salt and pepper. Taste for seasoning and adjust to your liking.
Ladle the borscht into warm bowls, top with a dollop of sour cream and a dill frond, and serve.
Share This Recipe with Friends!