Coconut Rice Cake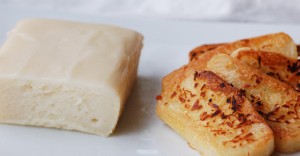 Courtesy of SousVide Supreme Culinary Specialist Madeline Fiore
Makes 1 cake (6-inch/15 cm round or 9×5-inch/23×13 cm loaf)
INGREDIENTS
¼ cup plus 2 teaspoons (70 ml) coconut oil, melted, divided use
1 ¼ cups (300 ml) coconut milk
¼ cup (60 ml) water
½ cup (96 grams) sugar
1/8 teaspoon (0.6 ml) sea salt
½ teaspoon (2.5 ml) almond extract
¼ teaspoon (1.25 ml) vanilla extract
8 ounces (227 grams) sweet rice flour
½ teaspoon (2.5 ml) baking powder
¼ teaspoon (1.25 ml) baking soda
Optional for frying:
1 beaten egg
1/2 cup (37 g) sweetened shredded coconut
DIRECTIONS
Elevate the bottom, perforated rack of the SousVide Supreme water oven on a non-rusting baking rack and fill the water to at least the fill line.
To properly fill the water bath to the correct level:

Fill the cake pan with water.
Set the pan onto the perforated rack in the water bath.
Add enough water to bring the water level up to within ½ inch (1.25 cm) of the rim of the cake pan.
Remove the cake pan, empty, dry well and oil liberally with 2 teaspoons (10 ml) of the coconut oil. Set aside.

Preheat the SousVide Supreme to 195F/90.5C.
In a large bowl whisk together the coconut milk, water, sugar, remaining coconut oil, salt and extracts.
In a small bowl whisk together the rice flour, baking powder and baking soda.
Stir the rice flour mixture into the coconut milk mixture until smooth and thick.
Pour the batter into prepared cake pan, cover with foil, and poke several tiny holes in the foil.
Cook in water bath for 1 ½ hours.
Remove the cake from water bath and let cool to room temperature or least one hour.
Slice and eat or, if you prefer, pan fry the slices as follows for a crispy treat:

Slice the cake and each dip each piece into beaten egg
Lightly coat one side with sweetened shredded coconut and pan fry over medium-high heat until golden brown on each side.
Serve warm.